9 Alternatives To Drywall Garage Walls: What is Practical & Best?
garagemadesimple.com is a participant in the Amazon Services LLC Associates Program, an affiliate advertising program designed to provide a means for sites to earn advertising fees by advertising and linking to Amazon.com . The website is also an affiliate of a few other brands.
What Can I Use Instead of Drywall for Garage Walls?
Drywall is cheap and code compliant. But it has very poor impact & water resistance. There are 7 viable alternatives to drywall for garage walls but which one is the best?
The best alternative must have better features than drywall and yet comply with the local building code.
Plaster, Cement Board, Plywood & OSB are actually practical alternatives to drywall for garage walls. Quite often, Slatwall (Pegboard), FRP and Wood Planks (Shiplap) are mentioned as alternatives. However, in reality, they are add-ons and complement the drywall for garage walls. They add utility or aesthetics.
In this post I examined 9 alternatives to drywall for garage walls and conclude that:
Cement Board is The Best Alternative based on Strength & Durability
OSB is the Best Alternative based on Ease & Cost of Installation
Slatwall is The Best Add-on for improving organization, storage & display
FRP is The Best Add-on for improving aesthetics & ease of maintenance
Read the entire post to understand the key features of each alternative to drywall for garage walls and determine what is best for you.
DRYWALL: Is It Worth Putting Drywall on Garage Walls?
Drywall boards are made by sandwiching gypsum between two sheets of paper. Drywall is a very popular sheathing material and comes with several advantages.  Drywall is a cheap and easy way to cover up utilities such as insulation, plumbing, electrical wiring, etc.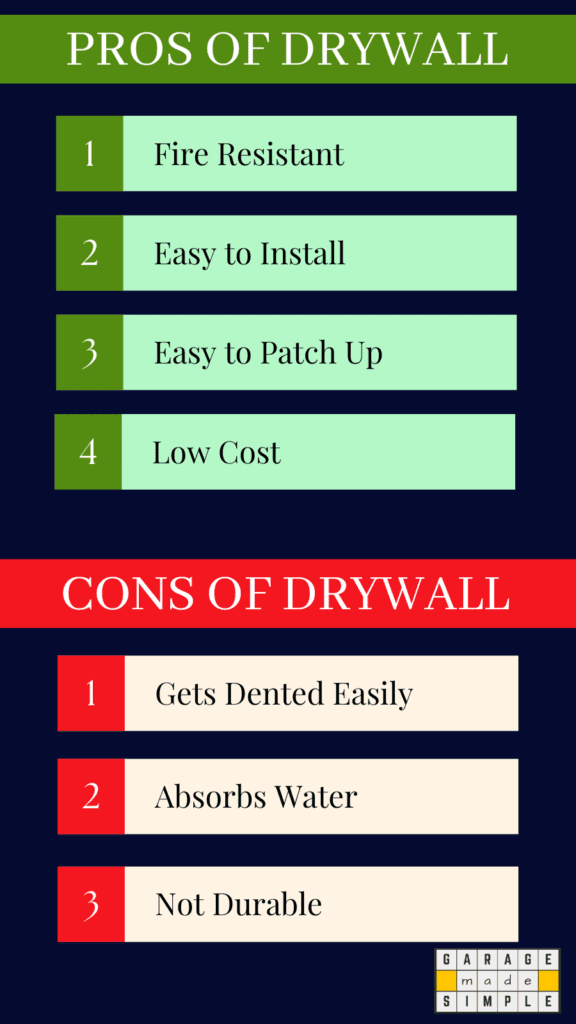 The low price, ease of installation and the fact that drywall complies with the code on fire resistance are the key reasons for its popularity. However, most people are looking for alternatives as drywall absorbs moisture & water easily, resulting in unsightly mold growth.
It is possible to buy mold resistant drywall, but frequent dents requiring patch up, is another reason homeowners would prefer an alternative to drywall for their garage walls.
1. PLASTER: Is it Better to Plaster or Drywall?
Before drywall became popular, plastering was the only way of finishing garage walls interior. Hardly anybody uses plaster or render on garage walls any more.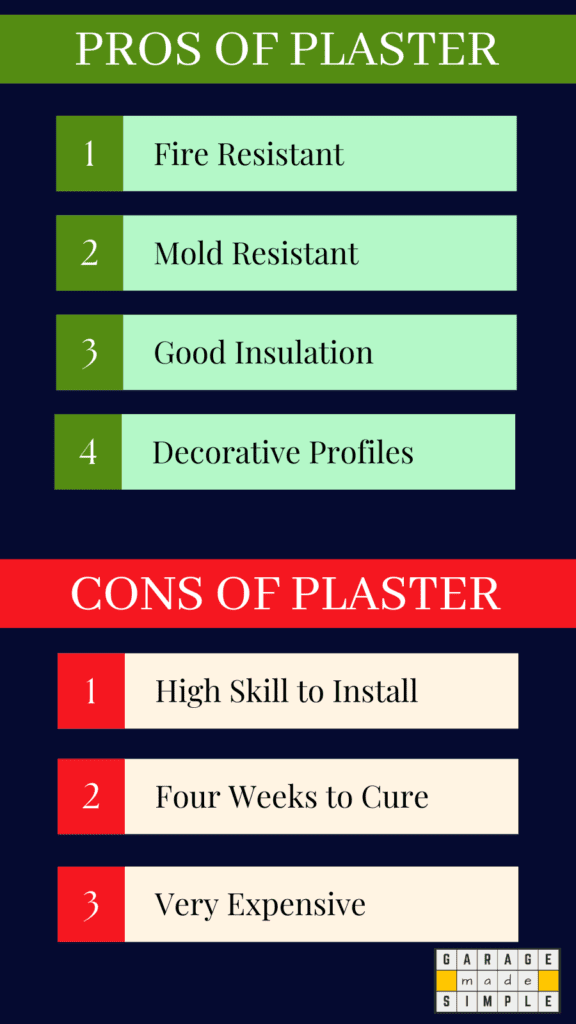 Plastering a garage wall is just too expensive & time consuming. Moreover, it requires the walls to be made of bricks or concrete blocks. These practices are outdated as they are not only expensive but also do not leave gaps to allow for installation of insulation.
2. CEMENT BOARD: Is Cement Board Better Than Drywall?
Cement Boards are made from cement and water and are reinforced by incorporating cellulose (plant based) fibers or particles. Depending on the nature of reinforcement they are referred to as Fiber Cement Boards (FCB) or Cement Bonded Particle Boards (CBPB).
If budget is not the constraint, Cement Board is the best alternative to Drywall for Garage Walls.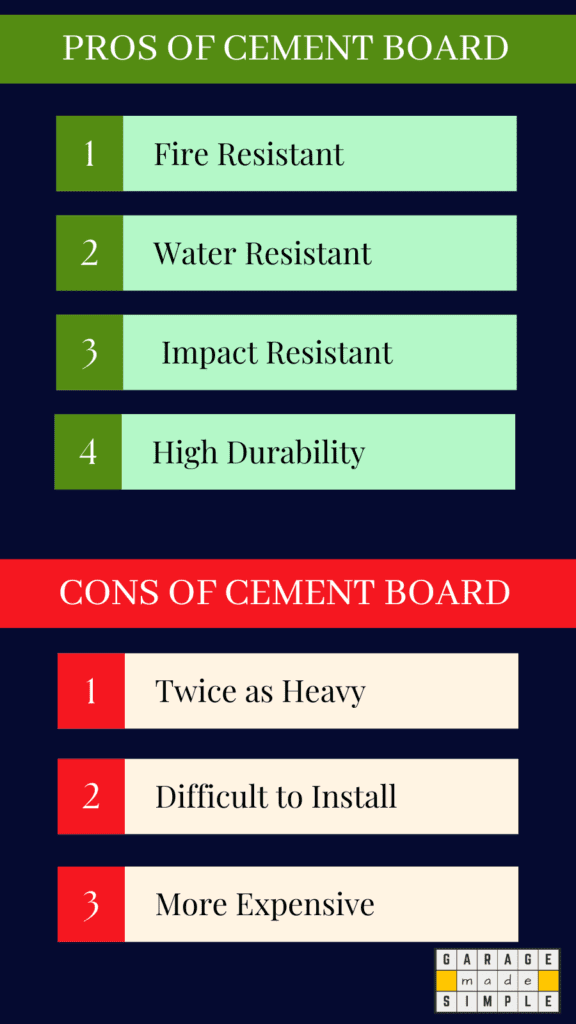 Cement Boards are the antidote to the key weaknesses of Drywall (Low Impact & Water Resistance) without any compromise on Fire Resistance. In addition Cement Boards are:
Mold & Mildew Resistant
Vermin & Fungus Resistant
Available in a range of Profiles & Colors
3. PLYWOOD: Is It OK to Use Plywood Instead of Drywall?
Plywood is an engineered wood and is made by bonding thin veneers (plies) of wood peelings from logs. They come in 3, 5, 7 or more plies and are available in 5 different ratings.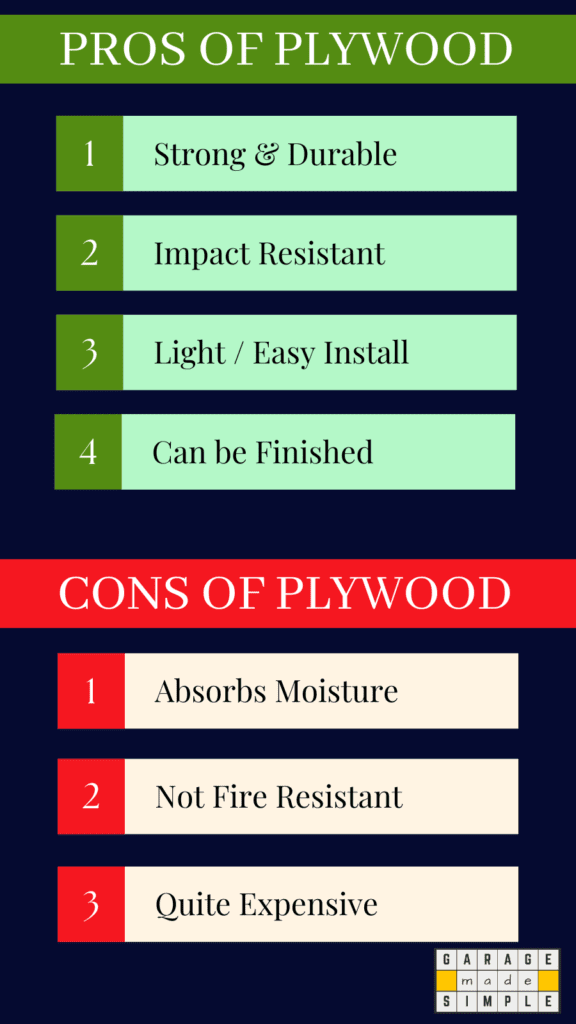 Plywood is a viable alternative to drywall for walls in a detached garage or walls in an attached garage that are not adjacent to living space. Many homeowners prefer it as it makes hanging stuff, including pegboards and slat walls quite easy.
4. OSB: Should I Use OSB or Drywall in My Garage?
Oriented Strand Board (OSB) is also an engineered wood. OSB is made from rectangular wood strands that are arranged in cross-oriented layers. Specialty resins, high heat and pressure are used to bond the strands into boards.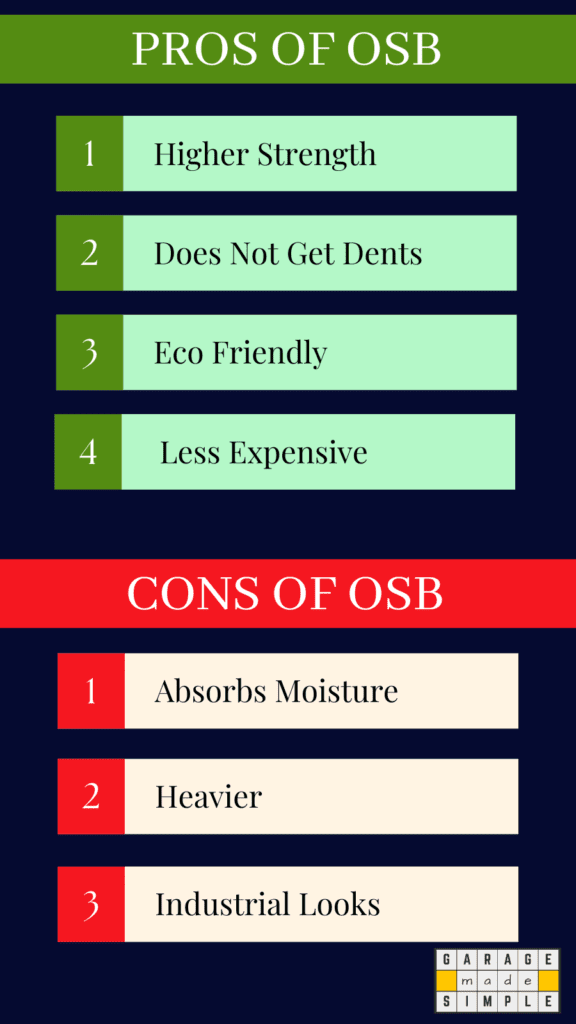 The properties of OSB are quite similar to that of Plywood. However, there are some subtle differences. For details check out my post on OSB or Plywood for Garage Walls.
5. METAL PANELS: Can I use Metal Panels for Garage Walls?
Metal wall panels are preformed or roll formed into sheets of uniform thickness and then cut into convenient sizes. They may be semi finished (need to be painted on site) or completely finished with a coating system. They can even come with insulation!
Metal Wall Panels are sheets of metal that are used as cladding or sheathing of buildings, including garages. 
Metal wall panels are specifically designed and manufactured as exterior metal wall panels or interior metal wall panels as the functionality differs. For interior garage walls you can choose from:
Single Skin Metal Panels
Metal Composite Material (MCM)
Insulated Metal Panels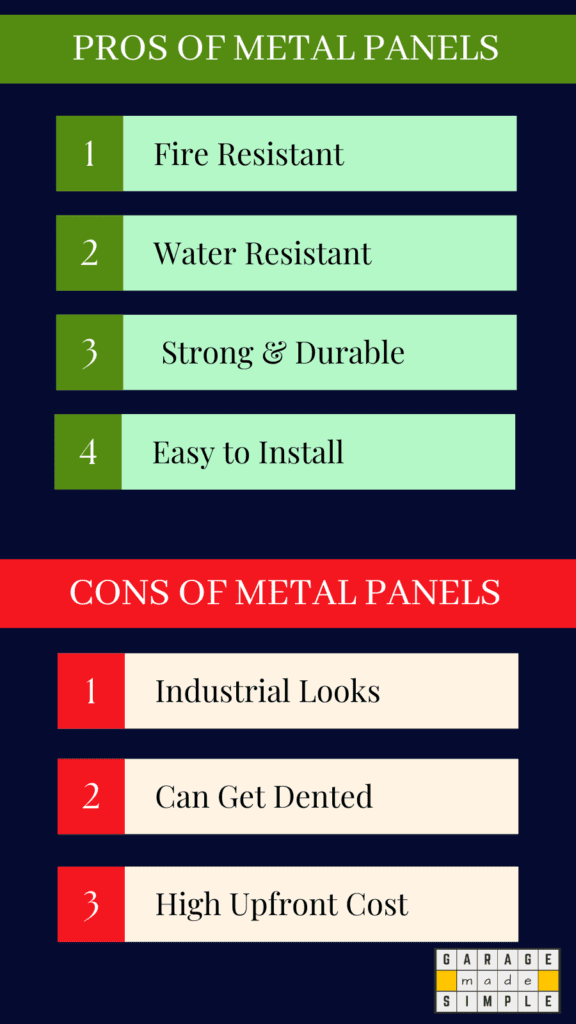 6. PVC PANELS: Are Garage PVC Wall Panels Any Good?
PVC wall panels are an affordable alternative to drywall for garage walls (as long as the local building code is not violated). Check out these interesting facts about PVC Wall Panels.
7. REAL WOOD: Wood Planks or Shiplap
Wood Planks or Shiplap are sometimes used as paneling in living rooms or bedrooms of luxury homes. Their use to panel garage walls would surely be an overkill. Real wood just has too many things going against it to be viable for use on garage walls.
Is a fire hazard
Can rot & decay in high humidity
Will be attacked by termites, etc.
Is expensive
Wood Planks or Shiplap can however be used to make a design statement, as an accent on one of the garage walls.
8. FRP: Fiberglass Reinforced Panels (FRP)
Fiberglass Reinforced Panels (FRP) are thin, flexible plastic panels made of strong polyester resin, reinforced with fiberglass. FRP is generally only 1/8th of an inch thick.
FRP has to be installed directly over drywall, wood, concrete block or any solid sturdy surface, using adhesive.
So FRP is basically an add-on decorative feature. It can not really be considered as one of the alternatives to drywall for garage walls.
FRP is a good alternative to painting drywall for garage walls. FRP is durable and water-resistant and because of this it will resist mildew and mold.
FRP is easy to install and even easier to maintain. It is hard to scratch or stain and resistant to many chemicals. FRP can be cleaned easily using regular detergents, high-pressure washers, or even steam.
9. SLATWALL: How do you use a Slatwall in a Garage?
Many homeowners are mainly interested in using one or even two walls of the garage for display, organizing & storage of stuff. The stuff may be auto and DIY tools, outdoor activity gear or just memorabilia.
The main function of the garage wall then is to let you hang stuff with ease. You do not want fixed hooks on the wall. You want the freedom to change the configuration as per your needs or as per the season.
Slatwall are panels, with horizontal grooves. You can slide in shelving, hooks, etc. in these grooves. The panels are affixed to a wall or a wall frame. Slatwall panels allow for a dynamic & versatile display & storage system.
Slatwall is often made of PVC, engineered wood or aluminum. All these materials are reasonably light and have an excellent finish. They are strong enough for most garage storage needs.
Slatwall is not an alternative to drywall for garage walls. It is fixed to studs, above the drywall, because it greatly simplifies organization, storage & display.
PROSLAT Ultimate Slat Wall Bundle with Slat Wall Panels Hook Kit, Shelf and Basket Kit
What is the Building Code for Garage Walls?
Construction of new or even major remodeling of your garage walls will require you to get a permit from your local building authority. Though building codes may differ from location to location, in essence they all follow the guidelines laid out in the 2021 edition of the International Residential Code (IRC).
For more information check out my post on Code for Drywall in a Garage.
Bottom Line
The bottom line is that there are 9 alternatives to drywall for garage walls, which are practical and worth looking at. They are:
Plaster
Plywood
OSB
Metal Panels
PVC Wall Panels
Wood (Shiplap)
FRP
Slat Wall (Pegboard)
Cement Board followed by OSB & Plywood are the best & most practical alternatives to drywall for garage walls.
Thank you very much for reading the post. I do hope you found it informative and useful.