Cement Board For Garage Walls: 6 Important Reasons They Are Better!
garagemadesimple.com is a participant in the Amazon Services LLC Associates Program, an affiliate advertising program designed to provide a means for sites to earn advertising fees by advertising and linking to Amazon.com . The website is also an affiliate of a few other brands.
Are you one of those unlucky guys, whose drywall in the garage got all wet & soggy? It has become mold infested and is crumbling. You seem to have no choice but to pull down the drywall and rebuild. But should you just replace it with new drywall? Why not consider Cement Board for your Garage Walls? 
I believe that Cement Board is possibly the best alternative to Drywall when it comes to sheathing of Garage Walls.
Cement Boards are:
Water Resistant
Fire Resistant & Non-combustible
Impact Resistant
Mold & Mildew Resistant
Vermin & Fungus Resistant
Highly Durable
Some people do not like to use them because they are heavy and therefore difficult to install. They are also more expensive than drywall. 
But they make perfect sense in the long-term perspective as they last a lifetime.
Let me explain about Cement Boards, including their pros & cons. It's up to you after that. Maybe you will be convinced to switch to Cement Board for sheathing your Garage Walls.
What is a Cement Board?
Cement Board is a sheathing material that is made from cement.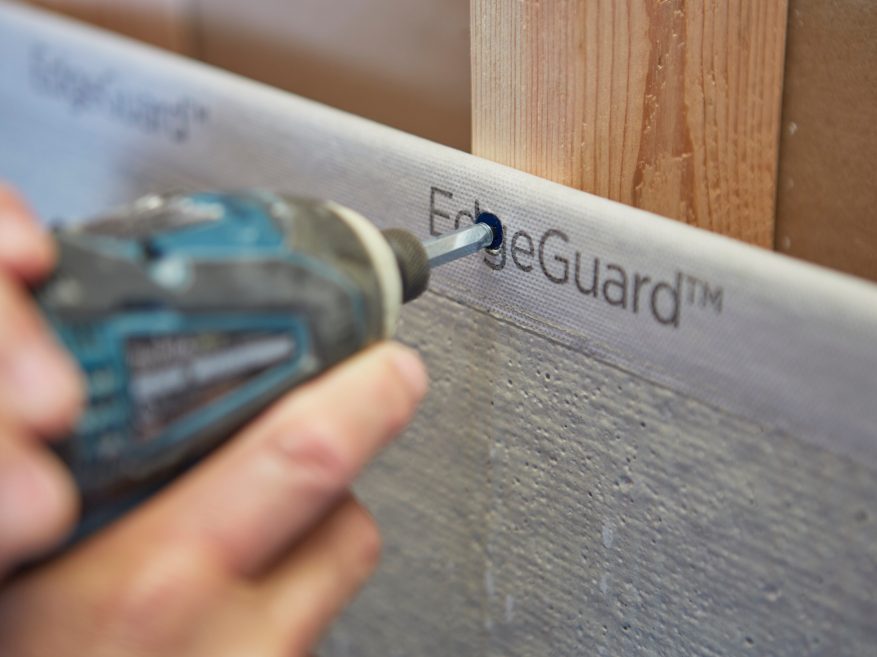 Cement is a binder, but just by itself it has no strength. A sheet made out of pure cement would crack and break if it was hit or bent. Cement is very brittle. 
Cement boards get their bending strength by incorporating plant fibers into the cement. Cement Boards with plant fibers are called Fiber Cement Boards (FCB).
Alternatively, particles of treated wood flakes can be used instead of the fibers. Cement Boards with particles are also called Cement Bonded Particle Boards (CBPB).
In a Cement Board the cement functions as a binder that holds together the fibers or the particles which are the reinforcements. As a combination the two materials become pretty strong and get some stiffness. 
You can think of Cement Boards as a miniature version of a concrete slab. The fibers function similar to the steel rebars and the particles function similar to the aggregates in the concrete.
Composition
The material composition of Fiber Cement Boards is
| | |
| --- | --- |
| Material | Amount |
| Cement | 40-60% |
| Fillers | 20-30% |
| Cellulose Fiber | 8-10% |
| Mica | 10-15% |
| Additives | <1% |
How are Cement Boards Made?
Cement Boards are made in a factory and can be bought from big box retailers such as Home Depot, Lowes etc. 
Fiber Cement Board (FCB)
The process starts by grinding silica sand to a finer particle size using steel ball mills. Water is added to make a silica slurry. Wood pulp and cement along with speciality additives are added to the slurry. 
Enough water is maintained to ensure uniform consistency and workability of the slurry. Using special machinery, manufacturers deposit successive layers of this slurry to the required thickness. 
The boards are then cured using steam at high temperature.
Cement Based Particle Board (CBPB)
The production process till making the cement based slurry is similar to FCB, except that the slurry does not have sand. Unlike FCB, CBPB is not deposited in successive layers. 
Instead it is placed as one thick mat. The mat is compressed to the required thickness using heat & pressure. There are similarities between the production process of CBPB and OSB.
Outstanding Features of Cement Board
Cement Boards, both Fiber Cement Board (FCB) and Cement Based Particle Board (CBPB), find many applications in the garage setting. They can be used in roofing, flooring and walls.
Fiber Cement Board (FCB) is the best alternative to Drywall, when it comes to sheathing of garage walls.
Structural cementitious panels are non-combustible, water durable, fiber reinforced inorganic composite panels that can be used as floor, roof, and wall sheathing when fastened to supports spaced in accordance with the appropriate span rating. 

ASTM C1705
Fiber Cement Board (FCB) is a structural cementitious panel and has all the above mentioned properties. And some more!
Water Resistance
Fiber Cement Board (FCB) is not waterproof but it is water resistant. Basically FCB is not hygroscopic like Drywall and will not absorb water when exposed to rain or flooding. It will get wet but will dry out pretty fast.
FCB, due to its composition and water resistance, does not promote mold growth,
Durock® Brand Cement Board with EdgeGuard™ from USG (the makers of Sheetrock® Brand Flexible Gypsum Panels) and available at Home Depot states that the product is Water Durable and mold resistant.
Waterproofing properties can be incorporated in FCB but of course it pushes up the cost. An example is HardieBacker with HydroDefense Technology available at Home Depot. They claim 100% Waterproof Cement Board with HydroDefense Technology.
This kind of product may be required in areas which are wet most of the time such as kitchen, bath, laundry room and mudroom, but hardly necessary for garage walls. The price of a 100% waterproof FCB can be more than twice that of a standard FCB.
Fire Resistance
The term "Fire Resistant", "Fire Retardant" and "Fire Rated" are often used interchangeably. However, from the testing point of view there are certain ASTM Tests that are used to determine the actual performance of sheathing panels.
Non-combustible (ASTM E136)
A non-combustible material is one that does not ignite, burn, support combustion, or release flammable vapors when subject to fire or heat, in the form in which it is used and under anticipated conditions, as determined through ASTM E136.  

Source : USG / FIRE PERFORMANCE
Both Drywall and Fiber Cement Board (FCB) are considered non-combustible.
However, in fairness, Drywall has a coating of paper which will burn.
Plywood and OSB, other popular sheathing panels are combustible and will ignite at high temperatures. Of course they can be treated with fire retarding chemicals to make them fire retardant or fire resistant.
Flame Spread (ASTM E84)
Boards that are combustible are further tested for "Flame Spread" and "Smoke Developed".
Fiber Cement Board (FCB) scores zero on both and is therefore classified as Class A (Class I) under ASTM E84.
Drywall has a very low score (15 for flame spread and zero for smoke spread) and is therefore classified as Class A (Class I) under ASTM E84.
Plywood & OSB have a Flame Spread Index between 75 – 200 and are classified as Class C (Class III) under ASTM E84.
You can check INFORMATION ON CONSTRUCTION REQUIREMENTS which has a table with the above data for all commonly used panels. 
IRC R302.6
The 2018 edition of the International Residential Code (IRC) specifies the type of doors, adjoining walls and floor that an attached or a built-in garage should have.
R302.6 Dwelling Garage Fire Separation (applies to adjoining Garage Walls & Ceilings) states that
The garage shall be separated as required by Table R302.6. Openings in garage walls shall comply with Section R302.5. This provision does not apply to garage walls that are perpendicular to the adjacent dwelling unit wall.
Table R302.6
| | |
| --- | --- |
| Separation | Material |
| From the residence and attics | Not less than ½-inch gypsum board or equivalent applied to the garage side |
| From all habitable rooms above the garage | Not less than 5⁄8 -inch Type X gypsum board or equivalent |
| Structure(s) supporting floor-ceiling assemblies used for separation required by this section | Not less than ½-inch gypsum board or equivalent |
| Garages located less than 3 feet (914 mm) from a dwelling unit on the same lot | Not less than ½-inch gypsum board or equivalent applied to the interior side of exterior walls that are within this area |
You can check out Attached Garage Fire Containment blog from Inter­national Association of Certified Home Inspectors for more details.
Impact Resistance
In engineering terms there are many dimensions to strength measurement, depending on the direction of the load or the stress.
Tensile Strength – Stretching or Pulling
Compressive Strength – Loading or Crushing
Flexural Strength – Bending
Impact Resistance – Being Hit
Shear Strength – Tearing or Cutting
Torsional Strength – Twisting
The Impact Strength is an important requirement for a garage wall.  Fiber Cement Board (FCB) has a high resistance to impacts, making it very suitable for garage walls. 
Garage walls are more likely to be hit by vehicular & foot traffic and by the movement of garage tools and furniture etc. Drywall is woefully disappointing when it comes to impact resistance.
The shear strength of Fiber Cement Board (FCB) is better than Drywall but still not enough for you to be able to hang your wall cabinets directly on them. For that you will need Plywood or OSB.
Just like Drywall, you would have to do all the hanging on the studs.
In case you need some power and hand tools for your DIY project, you can check them out at Amazon or International Tool. The links are listed below:
Power and Hand Tools from Amazon
IMPORTANT TIP: Never use standard screws when installing cement board. It will corrode the screws. Always use cement board screws. You can also use hot-galvanized steel nails.
Insect Resistance
Wood eating insects like termites, beetles etc are not able to attack and eat a Fiber Cement Board (FCB). This has to do with its composition. Most of it is cement and sand, which is impervious to insects. 
The plant based fibers are so encapsulated by the cement binder that the termites can't get to them.
Durability
All the above features add up to make Fiber Cement Board (FCB) extremely durable and ideal for garage walls. 
Water can not damage it. It does not get soggy like drywall, when wet. Nor does it swell up like plywood or OSB. Moss & mildew can not grow on it.
Fire can not burn it as it is non-combustible.
It does not crack or break easily on impact.
Pests such as termite, mice etc, can not bite into it.
No wonder most Fiber Cement Board (FCB) manufacturers are usually happy to give life long warranties.
Décor
Fiber Cement Board (FCB) sheathing on Garage Walls offers many décor choices. You can of course paint them to a color of your choice. But you could also put tiles on them. As tiles come in a range of options your garage wall could get a brick or stone finish, if you wanted.
Why are Cement Boards for Garage Walls not so popular?
Cement Boards are not as popular as Drywall, or even Plywood & OSB for two reasons:
Weight
Cement Boards are heavy. The weight comes from the high %age of cement & sand in a Fiber Cement Board (FCB). Cement & sand are heavier than gypsum & wood.
Weight for an 1/2 in. x 4 ft. x 8 ft. Sheathing Board:
Cost
Allowing for 10% wastage, you would need 6 panels (4 ft. x 8 ft.) for sheathing a garage wall (20 ft. x 8 ft.). At Home Depot this will cost you:
Note: Prices in this post are indicative only and may vary with place & time.
Bottom Line
The bottom line is that Cement Boards are possibly the best alternative to Drywall, when it comes to sheathing your garage walls. They have a number of outstanding features:
Water Resistance
Fire Resistance
Impact Resistance
Mold & Mildew Resistance
Vermin & Fungus Resistance
High Durability
Fiber Cement Board (FCB) costs twice as much as Drywall. Fiber Cement Board (FCB) also weighs almost twice as much as Drywall. 
These may deter you from using them on the garage walls. But should you use them you will be spared the trouble of replacing drywall panels often.
Rain or snow will not shorten the lifespan of Cement Boards.
Thank you very much for reading the post. I do hope you found it informative and useful.