10 Reasons Why It Is Better To Drywall A Detached Garage
garagemadesimple.com is a participant in the Amazon Services LLC Associates Program, an affiliate advertising program designed to provide a means for sites to earn advertising fees by advertising and linking to Amazon.com . The website is also an affiliate of a few other brands. The affiliate links never increase your purchase price. We do appreciate your support. Thank you very much!
Have you got a new detached garage built on your lot. The interiors are not yet finished and the walls are just bare concrete cinder blocks. You could leave it as it is, but it doesn't look very nice, does it? So the question is "Should you drywall a detached garage?"
Well, there are 10 excellent reasons to drywall a detached garage:
Makes the Garage Livable
Hides Plumbing & Wiring
Adds Color & Brightness
Lets you Insulate
Will Help Reduce Noise
Relatively Fire Resistant
Easier to Work With
Easy to Patch Up
Low Cost
Improves Resale Value
In this post I will explain each of the 10 reasons for using drywall for a detached garage and 3 disadvantages of using drywall in a garage.
Reason #1: Drywall Makes a Detached Garage More Livable
Even though the garage is detached, you are sure to have many plans to use the garage. You are not just going to park your cars there. 
You are going to store some of your stuff there. Like gardening tools or outdoor activity gear. 
You might want to set up a small workshop to do maintenance & repairs on your cars or other appliances and equipment in the house. Maybe a woodworking shop for DIY and home renovation projects.
There is no limit to how you can use your detached garage. You might want to spend the evening there having a few beers and watching your favorite sports on TV. Or you may set up a home gym in the detached garage.
So basically you want your garage to be livable and for that the starting point is to drywall the detached garage.
Reason #2: Drywall Hides Plumbing & Wiring
One of the reasons drywall in a detached garage makes the garage livable is that it lets you hide the unsightly utility stuff behind it.
A detached garage, just like a house, will, generally speaking, have:
Electrical Wiring
TV & Internet Cables
Heating, Ventilation & Air Conditioning Ducts
Natural Gas Supply Pipes
Water Pipes
Drains
Most of these can go in the garage wall stud cavity and then be covered up with the drywall garage wall sheathing. Done professionally, the utilities will be out of sight behind the drywall in your detached garage. Your garage will look very presentable.
Reason #3: Drywall in a Detached Garage Lets you add Color & Brightness
By using drywall in a detached garage you create a blank canvas which can be painted to the color of your choice. You can really personalize the garage.
It is a good idea to paint the garage ceiling a pure white. White is the best color for increasing the brightness of a space, as it reflects almost all the light that falls on it. The recessed ceiling lights in your garage will be even more illuminating as light gets reflected off, from the white ceiling. It will light up your workbench and garage floor, even better.
On the other hand it is best not to paint the walls white, as any dirt, dust or grime on it will show very easily. You may choose to go for different colors in different zones of the garage. This way you can go for the right ambiance. 
Maybe an industrial gray in the workshop area and a soothing pastel green in the area you practice yoga & meditation. It's totally up to you!
Do keep these in mind while painting the drywall in a detached garage.
Prepare the drywall by filling out all the joints, gouges, holes etc. Sand to smoothness and clean off the dust before priming.
Use a high quality primer – sealer. This is essential to seal the drywall, reduce the porosity as well as make the porosity uniform. You will use less paint and the paint will adhere well to the drywall.
Use high quality latex paint. Avoid semi-gloss or gloss paint. Low sheen or matt paint is best for garages. 
Paint the ceiling first, followed by the walls. Go for a second coat if required
Reason #4: Drywall Lets you Insulate the Garage Walls
To make your garage livable, you have to consider insulation. Insulating your garage means that heat lost during winters & cold nights will be less. At the same time your garage will gain less heat during summers & hot days. 
Wherever, you live, you will have temperature variations, from month to month and even from day to night. To make the garage livable, you must have a climate controlled garage. Insulation is a key part of controlling the climate within your garage.
Drywalling a detached garage opens up the possibility of insulating it. The drywall creates a cavity between the garage wall studs and the drywall. This cavity can be filled up with an insulating material.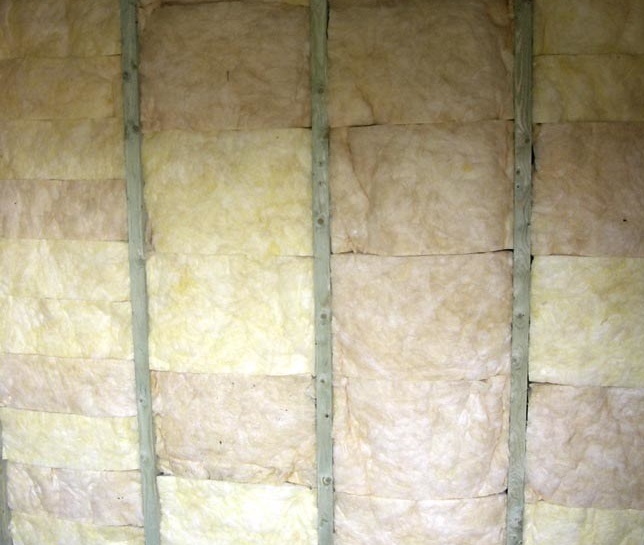 Insulation options that work very well with drywall are:
Insulation Batts or Rolls
Insulation Batts can be made from any insulating material. Typically they use fiberglass but other types of material such as cellulose, mineral wool or natural fibers can also be used.
They are basically an insulation blanket and  come in pre-cut sections. As a result they are quite easy to install. They can be cut to size and inserted between framing, such as studs and joists.
Standard fiberglass batts have R-values ranging from R-2.9 to R-3.8 for every inch of thickness.
Insulation Rolls are basically Batts in rolls that have pre-cut widths to fit between studs and joists. The Rolls come in continuous lengths ranging from 20- to 40-feet.
Fire Resistant Rigid Foam Boards
Fire Resistant Rigid Foam Boards are rigid panels usually made out of 
Expanded Polystyrene (Styrofoam): R-values that range from 3.6 to 4.2 per inch
Extruded Polystyrene: R-values of around 5.0 per inch
Polyisocyanurate: R-values that range from 6.0 to 6.5 per inch
Foam boards can be cut to size and inserted between framing, such as studs and joists, and then covered with drywall.
Spray Foam
Spray Foam is created by injecting two liquid chemicals from a spray gun which react to form a foam. The foam expands rapidly and will fill up every nook & cranny. It then hardens to create a very strong air barrier.
Spray Foam can be injected in the cavity formed between the studs and drywall. Personally I think this is an overkill for a detached garage.
You can read more on why Insulating Garage Walls Is Better, But You Need To Know Why?
Reason #5: Drywall can Help Reduce Noise
Standard drywall has some sound absorption properties and will muffle sound to some degree. However, it is the insulation that you put in the stud bays that really helps in absorbing sound. 
The fiberglass insulation absorbs the sound that would otherwise easily travel through the air pockets between wall framing. Mineral wool or cellulose insulation are likely going to do an even better job at sound absorption.
If you are going to use your garage for music practice or jamming then you may have to consider more effective soundproofing. You should install Mass Loaded Vinyl (MLV) over the insulation and before you install the drywall.
A simple DIY way to significantly reduce sound transmission is to use one layer of Green Glue Noiseproofing Compound between two layers of drywall. It is fast, easy to use, highly cost effective, and it works.
Application is as easy as 1-2-3. 1. Cut the drywall to spec. 2. Apply Green Glue Noiseproofing Compound with any standard quart-sized calking gun. 3. Screw into the existing wall or new drywall and enjoy.
Another way you can take your soundproofing to a higher level is by using soundproof drywall instead of the standard drywall. Soundproof drywall is a combination of gypsum boards & steel layers. 
If you are more curious about soundproofing your detached garage, check out my blog post Soundproofing A Garage Workshop? (4 Great Ways You Need To Know!).
Reason #6: Drywall is Fire Resistant
Though gypsum is a solid powdery substance it is actually 50% water (by volume) in crystalline form. This unique composition makes gypsum fire resistant. 
The temperature of the gypsum will not go beyond 212°F (100°C) till all the water has evaporated. And even after that gypsum will not catch fire.
The 2021 International Residential Code (IRC)
Section R302.6 and Table R302.6 of The 2021 International Residential Code (IRC) is relevant to the Dwelling-Garage Fire Separation and states that:
The garage shall be separated as required by Table R302.6. Openings in garage walls shall comply with Section R302.5. Attachment of gypsum board shall comply with Table 702.3.5. The wall separation provisions of Table 302.6 shall not apply to garage walls that are perpendicular to the adjacent dwelling unit wall.
Table R302.6
| | |
| --- | --- |
| Separation | Material |
| From the residence and attics | Not less than ½-inch gypsum board or equivalent applied to the garage side |
| From all habitable rooms above the garage | Not less than 5⁄8 -inch Type X gypsum board or equivalent |
| Structure(s) supporting floor-ceiling assemblies used for separation required by this section | Not less than ½-inch gypsum board or equivalent |
| Garages located less than 3 feet (914 mm) from a dwelling unit on the same lot | Not less than ½-inch gypsum board or equivalent applied to the interior side of exterior walls that are within this area |
The above code is not applicable if the detached garage does not have a dwelling unit (ADU) attached to it. So you could use other sheathing material such as plywood or OSB. But quite often you may have added or plan to add one of the following:
In the case of a detached garage you could use USG Sheetrock UltraLight 1/2 in. x 4 ft. x 8 ft. Gypsum Board, which is ICC-certified for sag resistance and eliminates the need for separate wall and ceiling panels.
Now if a detached garage has an apartment alongside or above it then 1) and not 2) will apply. So in such a situation you could use Sheetrock Brand Firecode Core 5/8 in. x 4 ft. x 12 ft. Gypsum Board, which has a fire-resistant gypsum core and provides additional fire resistance over regular panels.
Please do keep in mind that IRC rules and the interpretation of those rules may differ across municipal bodies. So please do check with your local body. This post is only to be used as a guideline.
Reason #7: Drywall is Easier to Work With
Drywall is easier to work with than some of the other sheathing building materials. You require far less tools too!
For the most part you are installing complete 4 ft. x 8 ft. boards. Even when you have to cut the large board to size, all you need is a utility knife and a straight edge or drywall T. Run your knife along the straight edge and just bend the drywall at the cut. It will snap cleanly.
You will get by without a saw, though a drywall saw, can be handy if you are looking for fast accurate cuts. You need some pretty standard tools such as stud locator, tape measure, power drill, hammer, that you would need with any other sheathing material as well.
While working with drywall you will create a fair amount of gypsum dust, so you must use protective equipment. Wear safety glasses and a respirator when you are exposed to dust.
This is not a one person job mainly because of the size & weight of an individual sheetrock board. Sheetrock is around 30% heavier than plywood for the same size.
In case you need some power and hand tools for your DIY project, you can check them out at Amazon. The link is listed below:
Power and Hand Tools from Amazon
Reason #8: Drywall is Easy to Patch Up
Drywall is not particularly strong. So it is easy to dent, crack or puncture holes, both big & small, in it. However, the advantage of using drywall in a detached garage is that it is very easy to patch up the damage.
Minor dents, holes and cracks should be filled with spackle using a putty knife. You can then smoothen out the surface and let the spackle dry. Once dry, sand the area, touch it up with paint and you are good to go.
For larger holes or damages, you will need to cut out a rectangular section around the damage and remove the drywall. You have to be careful about what (wires, plumbing, studs etc.) is behind the area that you are cutting out.
Create a support for the new patch that will replace the old patch you just removed. The new patch should be the same size. Position it in the gap and secure it to the support and or studs with screws.
Run strips of self-adhesive fiberglass drywall tape around the edges of the patch, centering the tape on the seams.  Use a drywall joint compound. Repeat the process and paint over once dry & smooth.
Reason #9: Drywall is Budget Friendly
Drywall is one of the cheaper sheathing alternatives available. I checked the price on Home Depot for just the sheathing material cost for the quantity required to cover a 20 ft. x 8 ft. Garage Wall.
Drywall
You will need 6 sheets of 1/2 in. x 4 ft. x 8 ft. USG Sheetrock UltraLight Drywall (allowing 10% for wastage). This will cost you $63.42
Cement Board
You will need 12 sheets of 1/2 in. x 3 ft. x 5 ft. USG Durock Brand Cement Board with EdgeGuard (allowing 10% for wastage). This will cost you $93.96
OSB
You will need 6 sheets of 7/16 in. x 48 in. x 8ft. Oriented Strand Board (allowing 10% for wastage). This will cost you $206.70
Plywood
You will need 6 sheets of 1/2 in. x 4 ft. x 8 ft. Sande Plywood (allowing 10% for wastage). This will cost you $248.10
Summary Table
| | |
| --- | --- |
| Material | Cost |
| Drywall | $ 63.42 |
| Cement Board | $ 93.96 |
| OSB | $206.70 |
| Plywood | $248.10 |
Drywall costs just a quarter of what plywood would cost.
Reason #10: Drywall Improves Resale Value of your Home
A residential property will most likely have an increased resale value after you install drywall in the detached garage. I must admit that there is no hard data to confirm this statement.
However, put yourself in a buyer's shoes. Between two properties, which were exactly the same, except for the state of the detached garage, which would you choose? 
Most people would not stop at just putting up the drywall in the detached garage. They would take this opportunity to insulate the garage, paint it up nicely, maybe even put in a mini-split air conditioner for heating, cooling & dehumidifying. All this certainly adds more value to the house than the cost.
Disadvantage #1: Drywall has Low Impact Resistance
Drywall has almost no impact resistance. After all it is just gypsum powder pressed together using some adhesive and sandwiched between two sheets of paper. It gets dented and gouged with the slightest hits from a ladder or a lawn mower.
It also can not support any weight on it's own. You can not hang any tools or hooks on it. You have to do all your hanging on the studs.
Disadvantage #2: Drywall Soaks in Water and Crumbles
Drywall is extremely porous. So if your garage floor has water pooling near the walls, the drywall will absorb the water like a bath towel. The water will wick and spread making the drywall soggy.
A worse case scenario is water leakage from the garage roof. Entire sections of drywall will get damaged. The drywall retains the water for long periods promoting the growth of mold & mildew. The garage will get the unmistakable musty smell.
You must take steps to protect the bottom part of the drywall in your garage by using waterproof coating, floor trim or wainscoting panels.
Ultimately you may have to go for extensive repairs. In extreme cases you may have to completely demolish the old drywall and go for a replacement.
Disadvantage #3: Drywall is Heavier than Plywood
For the same board size, drywall weighs about 30% more than plywood. This makes installation of the drywall, especially on the roof, a bit tricky. You would need to rent a drywall lift, take the help of a friend or entrust the job to a pro.
Sometimes, you may like to drywall the wall adjacent to the house to comply with the code and then put plywood over the lower half of the drywall so that you can get the benefit of impact & moisture resistance of the plywood.
Bottom Line
The bottom line is that there are 10 reasons why you should drywall a detached garage and 3 why you should not.
Drywall is great, but you need to be careful about physical impacts and water leakage or flooding.
Thank you very much for reading the post. I do hope you found it informative and useful.