Drywall vs Plywood For Garage Walls? (What Is Really Better?)
garagemadesimple.com is a participant in the Amazon Services LLC Associates Program, an affiliate advertising program designed to provide a means for sites to earn advertising fees by advertising and linking to Amazon.com . The website is also an affiliate of a few other brands.
Should I Use Drywall or Plywood in My Garage?
The sheathing material that you use for the interior walls of your garage is important. Not only does it affect the look & feel, it also affects the usability, durability & safety of your garage. So should you use drywall or plywood in your garage?
Drywall is the right choice for an attached garage as it is code compliant, fire resistant, pest resistant, easy to install and cheap. Plywood is a great option for a detached garage as it is stronger, more water resistant, impact resistant and durable.
In this post I explain the relevant sections of the 2021 International Residential Code (IRC) and 2021 International Building Code (IBC) which will almost certainly be incorporated in your local building code.
I then compare 5 important quality features of drywall vs plywood as sheathing material for garage walls.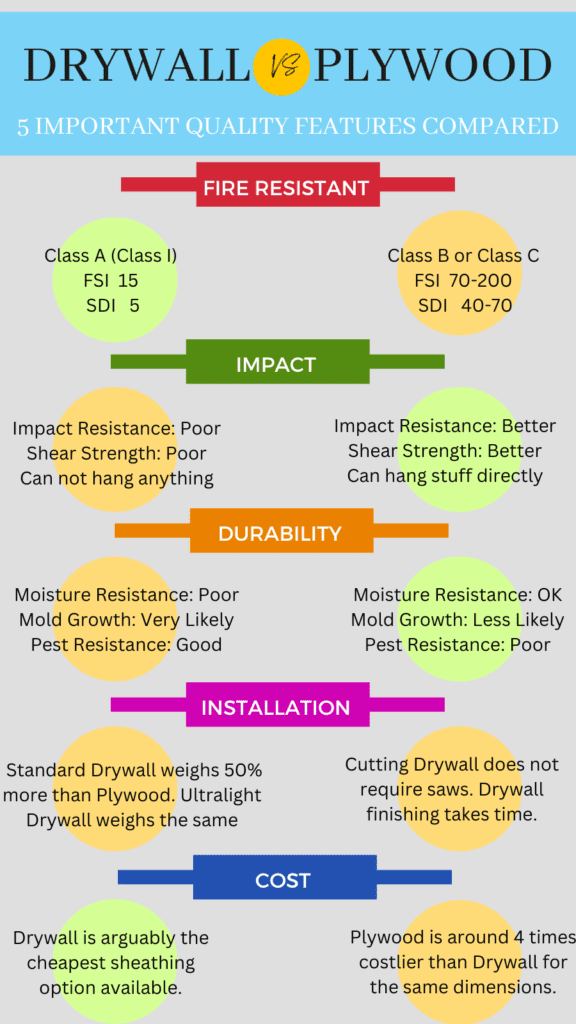 What Is the Purpose of Local Building Codes?
Even a relatively simple garage construction or remodeling project falls under the jurisdiction of local building codes and permits may be required. 
Building codes are the minimum design and construction requirements to ensure safe and resilient structures.

FEMA
Local Building Codes will usually adopt the IRC but may have additional clauses or local interpretations. You may refer to the IRC for general guidelines, but you have to finally talk to or get the applicable information from your local building authority.
2021 International Residential Code (IRC) for Garage Walls
Section R302.6 of the 2021 International Residential Code (IRC) is relevant to the Dwelling-Garage Fire Separation.
R302.6 Dwelling Garage Fire Separation (applies to adjoining Garage Walls & Ceilings) states that
The garage shall be separated as required by Table R302.6. Openings in garage walls shall comply with Section R302.5. This provision does not apply to garage walls that are perpendicular to the adjacent dwelling unit wall.
Table R302.6
| | |
| --- | --- |
| Separation | Material |
| From the residence and attics | Not less than ½-inch gypsum board or equivalent applied to the garage side |
| From all habitable rooms above the garage | Not less than 5⁄8 -inch Type X gypsum board or equivalent |
| Structure(s) supporting floor-ceiling assemblies used for separation required by this section | Not less than ½-inch gypsum board or equivalent |
| Garages located less than 3 feet (914 mm) from a dwelling unit on the same lot | Not less than ½-inch gypsum board or equivalent applied to the interior side of exterior walls that are within this area |
2021 International Building Code (IBC) for Garage Walls
Section 803.1.2 Interior wall and ceiling finish materials tested in accordance with ASTM E84 or UL723.
Interior wall and ceiling finish materials shall be classified in accordance with ASTM E84 or UL723. Such interior finish material shall be grouped in the following classes in accordance with the flame spread and smoke developed indices.
| | | |
| --- | --- | --- |
| CLASS | FSI | SDI |
| Class A | 0 – 25 | 0 – 450 |
| Class B | 26 – 75 | 0 – 450 |
| Class C | 76 – 200 | 0 – 450 |
1. Fire Resistance (Drywall vs Plywood)
Drywall Fire Resistance
Drywall is basically a panel of gypsum held together by additives and sandwiched between two sheets of paper. Though gypsum is a solid powdery substance, it is actually 50% water (by volume) in crystalline form. 
This unique composition makes gypsum extremely fire resistant. 
The temperature of the gypsum will not go beyond 212°F (100°C) till all the water has evaporated. And even after that gypsum will not catch fire.
Drywall (often referred to as Sheetrock) is classified as non-combustible when tested as per ASTM E136-19a.
SHEETROCK (Drywall) has a very low score (15 for flame spread index and 5 for smoke developed index). As such Drywall is classified as Class A (Class I) under IBC when tested in accordance with ASTM E84.
As an example, USG SHEETROCK®  BRAND AR FIRECODE® X PANELS 5/8 in. panels also meet Underwriters Laboratories Inc. (UL) Classification as to fire resistance, surface burning characteristics and non-combustibility.
Plywood Fire Resistance
Plywood is made from thin veneers of wood peelings from logs. A log after debarking is rotated and the veneer comes out much like the shavings when you sharpen a pencil.
The veneers are laid out in layers. The layer is called a "ply" which is the first part of the word plywood.
"Tests conducted in 1974 by Underwriters Laboratories showed flame-spread ratings from 75 to 200 for common plywood grades."

Source: Performance Panels
Plywood used for sheathing of walls are usually classified as Class B or Class C when tested in accordance with ASTM E84 or UL723. The following table is just a sample from the PDF from American Wood Council.
Material
ASTM E84
FSI
Flame Spread
Class
ASTM E84
SDI
¼" Douglas Fir Plywood (Softwood)
85
C
70
⅜" Douglas Fir Plywood (Softwood)
65
B
60
Birch ¼" Douglas Fir Veneer Core (Hardwood)
115
C
40
Birch ¾" Douglas Fir Veneer Core (Hardwood)
70
B
55
Drywall is a lot better than Plywood for Garage Walls when it comes to Fire Resistance.
However, Plywood can be used on all walls of a detached garage and all the walls of an attached garage that are not adjoining living space.
2. Impact & Shear Resistance (Drywall vs Plywood)
In engineering terms there are many dimensions to strength measurement, depending on the direction of the load or the stress.
Tensile Strength – Stretching or Pulling
Compressive Strength – Loading or Crushing
Flexural Strength – Bending
Impact Resistance – Being Hit
Shear Strength – Tearing or Cutting
Torsional Strength – Twisting
Garage walls are more likely to be hit by vehicular & foot traffic and by the movement of garage tools and furniture etc. The Impact Strength, therefore, is an important requirement for a garage wall. 
Further you generally want to hang a lot of stuff like tools, ladders, slatwall or pegboard etc on the garage wall.  
Drywall Impact & Shear Strength
Drywall is woefully disappointing when it comes to impact resistance. It will get nicks and cuts pretty easily. You could even punch a hole through it with a hard hit. 
Drywall also has extremely poor shear strength. You have to therefore hang everything from the garage wall studs. Drywall can hardly take any load.
Plywood Impact & Shear Strength
Will you have a garage workshop? Do you plan to store a lot of gardening or outdoor activity equipment? Then the choice between drywall or plywood for garage walls is clearly in favor of plywood.
Plywood has a much higher Impact & Shear Strength when compared to Drywall.
Plywood can handle a bump from your car or a hit by a lawn mower quite well. Moreover, you can hang workshop tools and backpacks on hooks, directly on the plywood. No need to look for the garage wall studs!
Of course the strength does depend on various factors such as thickness, number of plies, the type of wood etc.
3. Durability (Drywall vs Plywood)
The durability of a sheathing material depends on its resistance to:
Moisture
Mold & Mildew Growth
Attack by Pests 
Moisture Resistance of Drywall
Drywall is a porous and hygroscopic material. So if your garage gets flooded and the floor has water pooling near the walls, the drywall will absorb the water like a bath towel. The water will wick and spread making a large section of the lower wall soggy.
You can prevent this by having a good garage floor drain system. Another way to prevent such mishaps is to use wainscoting panels or garage floor trim.
Moisture Resistance of Plywood
Plywood boards have APA Exposure Durability Rating on the labels attached to them. The classification relates to glue bond or bond strength and thus to structural integrity. There are 4 ratings to choose from:
Exterior – waterproof & weatherproof
Exposure 1 – waterproof but not weatherproof
Exposure 2 – moisture proof but not waterproof
Interior – not moisture proof & suitable for interior use
Unlike Drywall, Plywood will dry out, even if it gets wet and absorbs some moisture, once the humidity conditions get better. Plywood will not crumble and disintegrate.
Mold & Mildew Growth
The garage will get the unmistakable musty smell of growth of mold & mildew if the walls have been damp for a while.
Since Drywall absorbs moisture easily and retains it for longer periods, it is more likely to promote mold & mildew growth, as compared to Plywood. Having said that, there are Mold Resistant Drywalls that you could go for if you so desire.
Pest Resistance
Drywall is pretty much impervious to attacks from all kinds of pests, because it is basically almost totally gypsum.
Plywood, on the other hand, being a wood based sheathing, can be attacked by pests such as termites and carpenter ants. You can buy insect resistant plywood or coat them to make them pest resistant.
In dry climates Drywall is more durable than Plywood. However, in wet climates plywood may be a better choice, as long as you can protect it from pests.
4. Ease of Installation (Drywall vs Plywood)
Both Drywall and Plywood typically come as 4'X8' boards. Most 2 car garages have walls which are 24' long and 8' high. So the size of the boards is perfect to be nailed or screwed on to the garage wall studs which are 16" apart. Usually very little cutting is involved.
Cutting Drywall or Plywood for Garage Walls
However, even when cutting is involved, it is very easy to cut a Drywall. All you need is a utility knife and a straight edge or drywall T. Run your knife along the straight edge and just bend the drywall at the cut. It will snap cleanly.
You can not do that with plywood, of course. You would need a saw and you will end up with a fair amount of sawdust.
Drywall or Plywood (Weight Comparison)
A 5/8″ sheet of Drywall (4'X8') typically weighs around 74 pounds. On the other hand, a 5/8″ sheet of Plywood (4'X8') typically weighs around 48 pounds. For this thickness Drywall can be as much as 50% heavier than Plywood.
For walls that are not adjoining a living space and you do not need to follow the building code you can go for 1/2″ thick boards.
Then you could use USG Sheetrock UltraLight 1/2 in. x 4 ft. x 8 ft. Drywall, which weighs only 44 pounds. This is actually lighter than 1/2 in. x 4 ft. x 8 ft. Plywood which weighs a bit over 45 pounds.
5. What is Cheaper? Drywall or Plywood
Home Depot stocks a whole range of sheathing materials including Drywall and Plywood.
Material Cost for a 20 ft. x 8 ft. Drywall for Garage Wall
You will need 6 sheets of 1/2 in. x 4 ft. x 8 ft. Sheetrock UltraLight Drywall (allowing 10% for wastage). This will cost you $66.60
Material Cost for a 20 ft. x 8 ft. Plywood for Garage Wall
You will need 6 sheets of 1/2 in. x 4 ft. x 8 ft. Sande Plywood (allowing 10% for wastage). This will cost you $248.10
So Drywall can be a lot cheaper than Plywood.
Bottom Line
The bottom line is that you must use Drywall as per the Building Code for Garage Wall adjacent to a living space. For other garage walls you can use either Drywall or Plywood or even OSB.
Drywall is better if
Plywood is better if
Money is not a limitation and you want durability
You want to hang tools & other stuff directly on the wall
Sometimes, you may like to drywall the wall adjacent to the house to comply with the code and then put plywood over the lower half of the drywall so that you can get the benefit of impact & moisture resistance of the plywood.
Thank you very much for reading the post. I do hope you found it informative and useful.