How To Put A Bathroom In Your Detached Garage? (The Best Way!)
garagemadesimple.com is a participant in the Amazon Services LLC Associates Program, an affiliate advertising program designed to provide a means for sites to earn advertising fees by advertising and linking to Amazon.com . The website is also an affiliate of a few other brands.
Can You Put a Bathroom in a Detached Garage?
Do you have a detached garage where you spend a fair amount of time? Working in your garage shop or working out in your garage gym? Then you must have asked yourself if you can put a bathroom in your detached garage.
You can put a bathroom in your detached garage but get the building permit first. Arranging for the utilities, especially water supply & drainage will take effort, time and money. Bathroom fixtures & fittings, wall framing, tiling, etc. are other important costs to include in your budget.
All this may seem daunting but the reward will be well worth it. Think of the times when you had to run through rain or snow just to pee or wash your dirty hands. With a bathroom installed in your detached garage, you can shower and get dressed for work after a morning workout in the garage gym.
In this post I show you, one step at a time, how to put a functional bathroom in your detached garage. So, let's get started.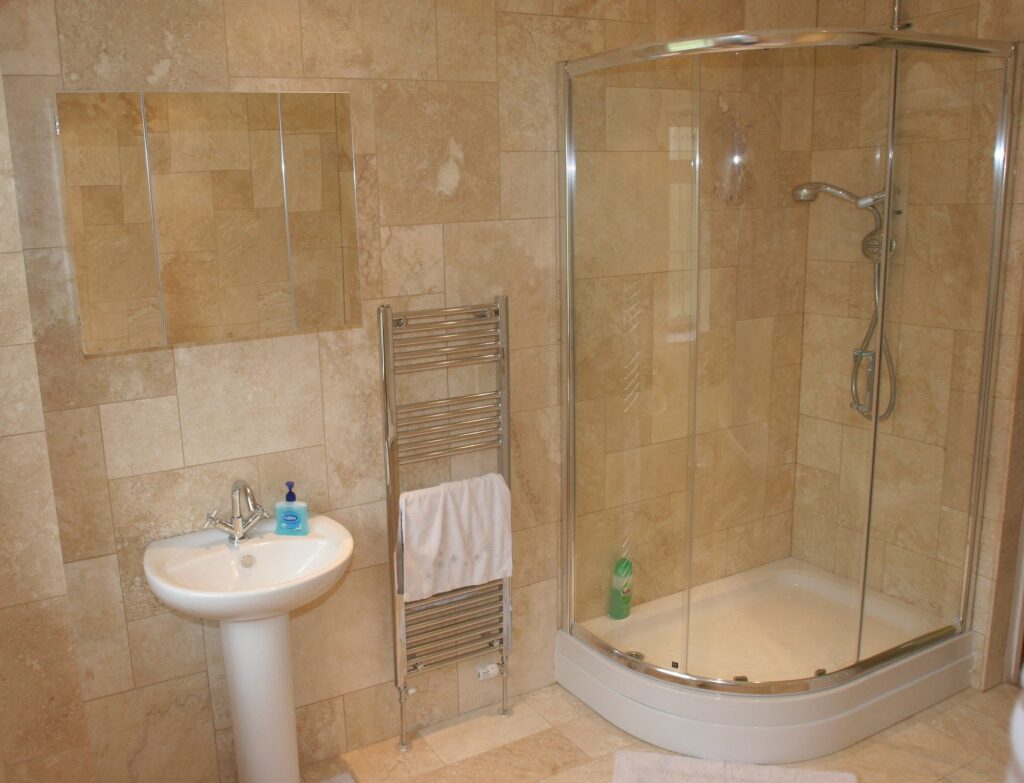 Do You Need a Permit to Add a Bathroom in Your Garage?
A permit to build anything new or even to make any significant modifications to an existing building or structure is almost always required. What would require a permit depends totally on the approving authority of your city or municipality. 
There is no general rule that applies universally across all of the United States. Actually even adjoining counties in the same state may have their own set of rules & regulations. So, you will only get the correct answer by asking the approving authority that has jurisdiction over your area..
In my opinion, it is highly unlikely that you will not need a permit. Adding a bathroom to a detached garage requires constructing a room, laying down utility lines, etc.
The addition of a bathroom to a detached garage, almost always, requires a permit, as plumbing is involved.
I did a few random online searches and a couple of results, listed below, illustrate my point:
SAN DIEGO, CA (https://www.sandiego.gov/development-services/permits)
A permit is required for projects such as new construction, additions, remodeling or repairs to electrical, mechanical and plumbing systems.
CITY OF ITHACA, NY (https://www.cityofithaca.org/138/General-Permit)
A building permit is also required for any work which must conform to the Uniform Code and/or the Energy Code, including, but not limited to, improvements, electrical, plumbing, roofing, siding, window replacement, paving, installation of a solid-fuel-burning heating appliance/chimney or flue, fire alarm and sprinkler work.
So, ask the local authorities before you commence any work. Fortunately, you will be able to access information and make the permit application online.
Your contractor will also be able to help out by filling the forms correctly. They can provide all the required information and drawings.
How Hard is it to Run Plumbing to a Detached Garage?
New plumbing is tough enough for an attached garage. Plumbing to add a bathroom to a detached garage, is without doubt, the most difficult part of the project. The further the distance from the house, the more difficult it gets.
Plumbing for a bathroom requires piping for water supply and drainage that can take the waste water to the sewage system or septic tank. You could do it yourself or engage the services of a professional plumber.
Water Supply
You will need to run an underground water supply line from the house to the garage. Figure out what will be the shortest connection. The easiest option might be a water point outside the house that you use for watering the yard.
Else you can try to tap a water pipe in the basement, kitchen or a bathroom in the house.
The water pipe has to be buried in the ground at a level below the frost line in your area to avoid freezing in winter.
A trench would need to be dug through your yard and possibly across the driveway as well. If the frost line is not applicable to your area, just keep the drain 12"-18" deep.
On the garage side, the pipe must enter through the garage foundation and then emerge from the concrete garage slab.
TIP: You can use a PVC pipe but PEX is a lot better as it is flexible and easy to work with.
Drainage
The wastewater from the bathroom in the detached garage has to be directed towards the sewage drain or the septic tank, as the case may be. Keeping the drain pipe straight. No bends.
Also keep it inclined, sloping down at around 1″ for every 4′ towards the main sewer line. This will ensure that toilet paper, solid organic waste and water are all moving at the same speed towards the city sewer line.
Can a Shower and Toilet Share the Same Drain?
Yes, the sink, shower and toilet can all share the same drain as that drain must ultimately lead to the city sewage drain system. However, they must be connected in a specific order.
Keep in mind some basics of drainage plumbing for a bathroom in your detached garage:
The pipe running from the bathroom to the city sewer line should be 4".
The toilet gets connected to this first using a Y joint and a 3" pipe.
Next comes the shower drain connection using a Y joint and a 2" pipe. For the shower you need to have a P-trap also.
Last item to be connected is the sink. You use a 2" or a 1 ½" pipe for that and another P-trap. 
This is where the vent pipe, which goes straight up to the roof, is also attached.
The vent pipe allows air to flow in to fill up the vacuum created whenever water or solid matter is flushed out through the drain.
Since you are doing so much plumbing, you might also want to install a utility sink. Check out my blog post Practical Tips For When You Need A Garage Utility Sink.
How Can You Get the Most Out of Your Small Bathroom?
You need to keep the bathroom in your detached garage small & functional. In my opinion you can get a decent bathroom in a 4'X8' corner of your garage (see layout below).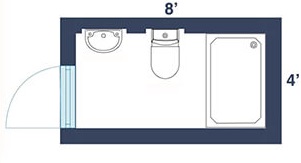 You just need to have the three basic fixtures, sink, toilet & shower.
Sink
Go for a simple rectangular shape and adapt it to the available space and your specific needs.
Recommended Product: Kohler K-8189-0 Verticyl Rectangle Bathroom Sink
Toilet
Choose a toilet that uses a small floor area but is highly efficient when it comes to amount of water used per flush. Ease of installation is another feature to look for.
Recommended Product: KOHLER 3814-0 Two (TM) Corbelle Comfort Height(R)
Shower
Go for a shower enclosure kit that is designed for a corner installation. It is an effective solution to maximize space. The shower base should be scratch, slip, and stain resistant. The sliding doors should be acrylic or tempered glass for easy maintenance.
Recommended Product: DreamLine French Corner 36 in. D x 36 in. W x 74 3/4 in. H Sliding Shower Enclosure
Hot Water for the Shower
Nothing like a hot shower after a workout. The best option is to use an Electric Tankless Water Heater.
Recommended Product: ecosmart ECO 18 Electric Tankless Water Heater, 18 KW at 240 Volts with Patented Self Modulating Technology
How to Build the Bathroom Enclosure?
Since your bathroom will be in the garage corner you will need to build just two walls and do up the flooring in the bathroom area.
Building the Walls
You will need to build two partition walls, floor to ceiling. The shorter wall will have a door that opens outwards, to maximize usable area of your small bathroom.
You start off by making the frame. The frame will have a sole plate (to be secured to the concrete floor) and a top plate (to be attached to the ceiling or a beam). The frame is then completed with vertical studs, 16 inches apart.
The frame is then tilted up and secured to the floor, the ceiling beam and the wall column.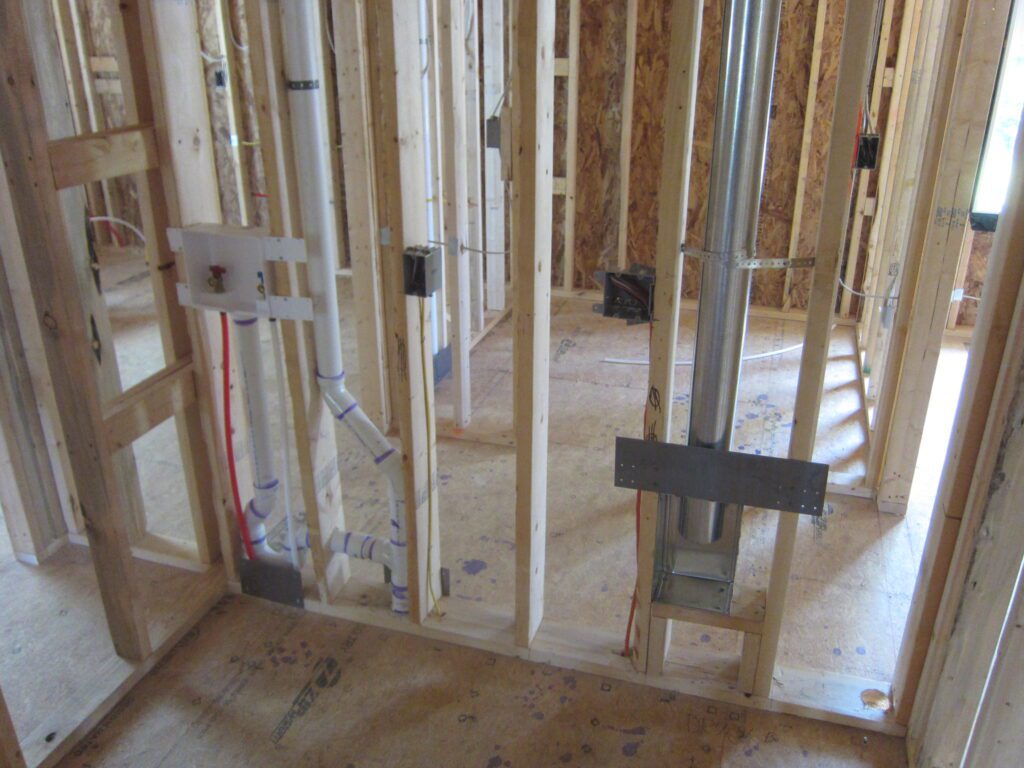 Tiling the Bathroom Floor
Install ceramic or porcelain tiles. They are the best for areas where there can be water spills; bathrooms, kitchen & laundry room. You can order Trending Porcelain Tiles from Stone Tile Depot.
Now all you need to do is to paint the remaining walls and the ceiling. Color is always a very personal choice. I suggest using a deep color if your garage interior is white or has a pastel tone.
Rust-Oleum Painters Touch Gloss or Semi-Gloss available at Amazon (water-based acrylic formula, low odor, resists chips and provides long-lasting protection) is a great choice.
How Much Does it Cost to Add a Bathroom in a Detached Garage?
The cost of adding a bathroom to your detached garage will depend on factors
Distance between House and Garage
Size of the Bathroom
Quality of Materials Used
The cost of the basic bathroom will be in the $3,000 to $6,000 range. However, the cost of plumbing could add significantly to the cost if the garage is more than 10-20 feet away. 
There are just too many factors involved and only a local plumber will be able to give you an estimate after visiting the site and taking measurements.
FAQ
How Do You Keep Pipes from Freezing in an Unheated Garage?

To prevent damage due to freezing of water pipes in an unheated garage use a combination of following techniques:

1) Use PEX piping; they expand when water freezes without bursting
Insulate water lines
2) Drain & shut off water lines
3) Keep the faucet dripping; flowing water reduces risk of freezing
What is the Code for Space Around the Toilet?

The National Kitchen & Bathroom Association (NKBA) recommends space requirements for the various items in a bathroom. Your local building authorities may have slightly different specifications. So you must check with them and ensure you comply with the local code.
NKBA recommends
Sink
Minimum of 30"X48" in front
Toilet
Minimum 24" in front. Minimum 15" from center of toilet to side walls. Minimum 30" center to center from any other sanitary fixture.
Shower
Shower area should be a minimum of 32"X32". The total shower area for non-square showers, should not be less than 1,024 square inches.  Minimum 24" clearance in front of shower entry.
Thank you very much for reading the post. I do hope you found it informative and useful.