How To Waterproof Garage Floor? (A Simple 5 Step Guide!)
garagemadesimple.com is a participant in the Amazon Services LLC Associates Program, an affiliate advertising program designed to provide a means for sites to earn advertising fees by advertising and linking to Amazon.com . The website is also an affiliate of a few other brands. The affiliate links never increase your purchase price. We do appreciate your support. Thank you very much!
How Do You Make a Concrete Garage Watertight?
Do you find water pools on your garage floor whenever there is some heavy rain? You might think that a little water will not cause any serious damage to the concrete garage floor. Though concrete is strong, water can penetrate unprotected concrete and degrade it quite rapidly. So how do you make a concrete garage watertight?
To make a concrete garage watertight you must waterproof the concrete garage floor by coating it with a liquid rubber waterproofing membrane. Liquid Rubber is a water-based, easy to apply coating system that forms a completely waterproof membrane on the floor after drying.
Liquid Rubber Sealant is a highly flexible, UV stable, one pack product. The final membrane has over 1000% elongation and the sun will not degrade it. The sealant gets into every crack in the concrete floor to form a seamless membrane that is 100% waterproof.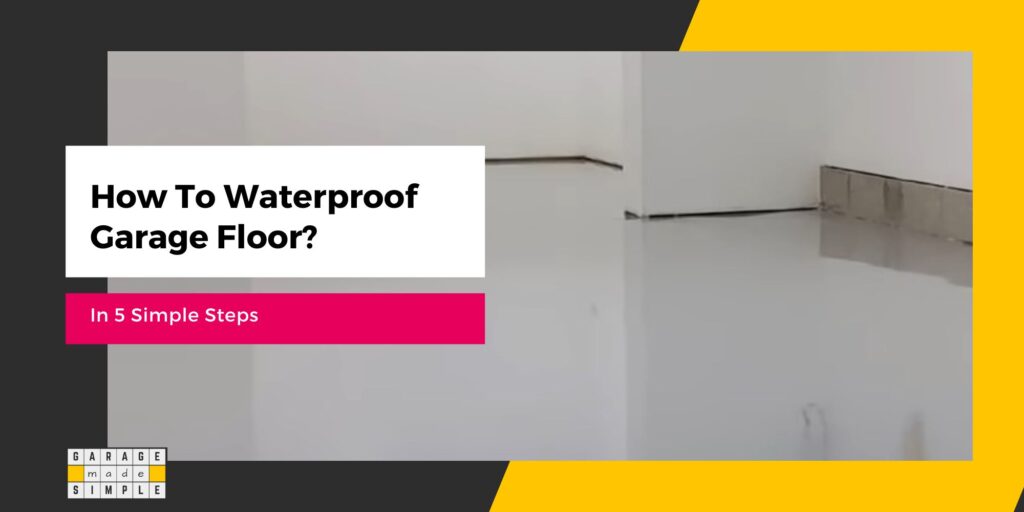 However, Liquid Rubber can not be the final coat on a garage floor, because it is:
Flexible & soft
Not compatible with mineral spirits & solvents
Liquid Rubber can be coated with a water-based latex/acrylic or 1-part epoxy floor paint. Alternatively you could place mats or tiles on top.
When Should You Use Waterproofing?
A concrete garage floor is essentially a "slab on grade". The floor therefore requires waterproofing from groundwater that can rise up due to hydrostatic pressure, water vapor gradient or capillary action.
The floor also needs to be waterproofed from above to prevent the penetration of water from rain, snow melt or plumbing leaks. Water can infiltrate the concrete floor through cracks, structural defects or defective joints.
You need to waterproof your concrete garage floor at three stages:
During construction of new garage
Just after the concrete floor has cured
Regular maintenance waterproofing 
During construction of new garage
The most cost effective time to waterproof the garage concrete floor is at the construction stage. A vapor barrier (aka moisture barrier) needs to be laid out on the compacted base, prior to placing the concrete mix.
A vapor barrier is a material that prevents the movement of vapor or moisture from an area of concentration to the livable area.
For maximum effectiveness, the vapor barrier should be in direct contact with the underside of the concrete slab. This means that the vapor barrier should be laid out after all the ground preparation has been completed.
Just after the concrete floor has cured
Curing is a hydration process, during which the cement reacts with the water to form crystals. The crystals grow into a matrix enveloping the sand and other aggregates in a tight mesh. 
The curing process takes 4 weeks to complete. Once curing is complete, the concrete becomes hard & strong.
The excess water migrates to the surface and evaporates, during the curing process. This creates capillaries in the concrete slab, which need to be sealed to waterproof the garage floor.
There are Penetrating Concrete Sealers and Topical Concrete Sealers. A Penetrating Concrete Sealer penetrates into the tiny concrete pores, fills them up, solidifies and blocks them. They do not form any film on the surface. 
Silanes make the best penetrating concrete sealers because:
Due to their small molecule size, Silanes are frequently used for sealing pre-cast concrete and high performance concrete such as: parking garages, bridge decks, building facades, and concrete forms.

ConcreteSealersUSA
I recommend using Foundation Armor SX5000 Water Based Silane Siloxane Penetrating Concrete Sealer.
The Armor SX5000 WB is a water-based Department of Transportation approved Silane-Siloxane penetrating concrete sealer. It penetrates deep into the substrate where it chemically reacts to form a hydrophobic barrier within the pores
This reduces the absorption of water by up to 95%. It protects concrete, from within, without changing the look or feel of the surface. 
Zero VOC, Water Based Sealer for Unsealed and Uncolored Smooth Troweled Concrete
Restricts Moisture Absorption, Imparts Water Repellency
Combats Freeze/ Thaw, Reduces Scaling & Spalling
Resists Salts & Deicing Chemicals, Decreases Efflorescence
Limits Dirt Buildup, Retards Organic Growth, Makes Easier to Clean
Regular Maintenance Waterproofing
Every now and then you need to apply a coat of topical waterproofing primer & paint system on the concrete garage floor to protect it from water infiltration through cracks, structural damages and expanded joints.
The coating applied should be able to penetrate & bond with the cracks & joints. At the same time it needs to be flexible, so that it does not crack when the concrete cracks move or expand.
Note: Epoxy, a preferred garage floor coating is hard but brittle. It tends to mirror the cracks in the concrete floor.
Liquid Rubber Coating is not hard but flexible. It will seal any cracks in the concrete. It is excellent for waterproofing porous materials such as concrete.
How to Waterproof Garage Floor?
To waterproof your concrete garage floor you need to follow these 5 simple steps:
STEP 1: Preparation & Cleaning
Start off by removing all items that are on the garage floor. This includes the vehicles, workbenches, storage racks, tiles & mats, etc. Every square inch of the garage floor should be visible and accessible.
Clean the garage floor using a broom, or better still a vacuum cleaner. Wash the floor with soap and water. You can use a pressure washer, but make sure to set it on a low pressure setting.
Pay special attention to removing oil & grease marks, by using a "degreaser". You also need to etch new or bare concrete with muriatic acid to ensure the concrete has a grip and the Liquid Rubber Primer will have good adhesion.
Alternatively you can use Rust-Oleum Quick Prep 3-in-1 Cleaner Degreaser and Etch.
Scrape off any loose or flaking paint from the previous application using a wire brush or coarse sandpaper.
STEP 2: Floor Inspection & Crack Repair
Now it is time to inspect the state of the garage floor. You will certainly see cracks in the concrete. Hairline cracks do not matter, but cracks which are wider than ⅛" will need to be filled up.
This is also a good time to fill up dents & low spots and correct any slope related issues.
Remove any remaining dust on the garage floor using a dry or wet mop. The concrete should be completely dry before the Liquid Rubber application. You can check the moisture content in the concrete floor by taping a 1 ½' square of plastic to the floor and leaving it overnight.
STEP 3: Liquid Rubber Primer Application
For best results and ensuring that your garage is watertight, waterproof the bottom 6″ of the garage wall along with the floor. Mark off the 6″ line using a masking tape.
Use a brush or roller to apply a coat or two of Liquid Rubber Multi-Purpose Primer on the bottom 6″ of the wall, the wall-floor joint and the floor. The recommended coating thickness of the Multi-Purpose Primer is between 4-5 mils DFT with a spread rate of 200-250 square feet per gallon.
Liquid Rubber Multi-Purpose Primer is a single component epoxy composition, suitable for easy and safe application. The primer will minimize vapor drive and maximize adhesion of the waterproof membrane. Liquid Rubber Multi-Purpose Primer is freeze/thaw stable and fast drying.
STEP 4: Liquid Rubber PU Coating Application
Apply 3-4 thick coats of Liquid Rubber Smooth Polyurethane Deck and Dock Coating on top of the primer, once dry. You can use a a brush, ⅜" nap roller or hopper style sprayer.
Liquid Rubber Polyurethane Deck Coating is a high-performance polyurethane coating with a hard, durable & waterproof surface with excellent UV stability. It comes in two finishes, smooth & textured and a small range of 10 select colors.
Use 1 Gallon of coating for every 40 square feet of floor area. You need to build up a high film thickness for best results.
STEP 5: Epoxy Shield Topcoat Application
Apply one coat of Single Part Rustoleum Epoxy Shield Concrete Floor Paint using a ⅜" nap roller. This one part epoxy paint is self-priming and requires only one coat. The modified acrylic water-based paint resists fading, chipping and stains, even when exposed to sunlight, weather, hot tires or chemicals.
It is optional, but you can apply a coat or two of water-based, hard wearing clear coat for added protection and aesthetic appeal. To ensure the topcoat is not too slippery add some Rustoleum Anti Skid Additive to it.
All that is left now is to wait for a day or two and move your stuff back into the garage!
Thank you very much for reading the post. I do hope you found it informative and useful.