How To Make Motion Sensor Garage Light Really Helpful?
garagemadesimple.com is a participant in the Amazon Services LLC Associates Program, an affiliate advertising program designed to provide a means for sites to earn advertising fees by advertising and linking to Amazon.com . The website is also an affiliate of a few other brands.
Do you often find yourself groping for the light switch in a dimly lit or completely dark garage? Then, I am sure you must have wondered, "How do I make my garage lights automatic and brighter?" The answer may well be in motion sensor garage light.
The motion sensor technology is inexpensive and simple to use. It will make your garage lights automatic. They will turn on when you enter, stay on while you are there and turn off once you leave. It is very convenient and will save you money too, in the long run. 
Typically you open your garage door, using the remote or the keypad on the wall next to the door. The garage door opens and the light on the garage door opener (GDO) comes on. It stays on for a while (usually less than 5 minutes). The light is dim (usually 800 lumens). 
This may be enough to get out of the car and walk out of the garage. Many may be satisfied. But some, people like you, want more illumination and for as long as needed, without the bother of tapping a switch.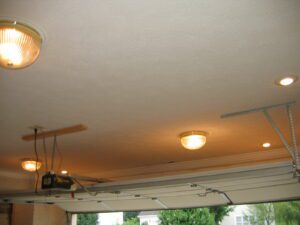 Upgrade with Motion Sensor Garage Light
To upgrade your garage indoor lighting to meet your specific requirements you need to 
Add more lights so that you get the required lumens in the specific areas of the garage.
Automate these lights. Motion Sensor Garage Light is possibly the best option.
In this post I am going to tell you about how to work out your garage lighting needs and how to decide the indoor garage light automation system that will work best for you.
Calculating your Lumen Needs
Lumens is a measure of the amount of light in the visible spectrum emitted by a light source. In the old days when we had only incandescent bulbs our measure of light was the watts. In fact watts is a measure of energy consumption not light emitted.
Today there are 3 types of light sources that can be used in residential & commercial buildings.
Regular Incandescent Lamps
Electric current is passed through a tungsten filament housed in an inert vacuum or gas, glass bulb. The filament heats to a temperature that produces and emits light.
Compact Fluorescent Light (CFL)
Electric current is passed through a tube containing argon & some mercury vapor. UV light is emitted which excites a fluorescent coating. This then emits visible light.
Light Emitting Diodes (LED)
Electric current is passed through a diode (semiconductor). The diode emits photons (light) through the principle of electroluminescence.
To produce 800 lumens of light you would need a 60W regular incandescent bulb or a 13-14W CFL or a 9-10W LED. Clearly LED is 6 times more efficient.
Foot Candle
Another term worth knowing is foot-candle. A foot candle is the brightness of the light, one foot away from the source.
The amount of light required in a space is determined by the intended use of that space. Obviously you need more brightness on your writing desk than you need in a living room while watching TV.
Lumen Calculation
You can get some helpful information on lumen calculation on the blog post by Alcon Lighting.
Let us consider an example to illustrate how the lumen requirement can be calculated. 
Say you have a two car garage measuring 24'X24' (576 square feet). The foot candle recommended for a parking garage is 10. Based on 10 foot candles, the lumens required in such a garage would be 5,760 (Area multiplied by recommended foot candle). 
Now you know why that 800 lumen garage door opener (GDO) light is pretty inadequate.
Multi-Use Garage
However if you plan to use your garage for storage as well then the foot candle recommendation goes up to 50. Based on 50 foot candles, the lumens required in 24'X24′ garage would be 28,800 (Area multiplied by recommended foot candle). 
The garage indoor lighting should be set up accordingly. Each area should also have its own switching system (manual or automatic).
You should set up a Motion Sensor Garage Light for each area. Then and only then, can you light up only the area that you are using, automatically through your motion, and not the entire garage.
What is a Motion Sensor Garage Light?
The two most commonly used technologies to detect motion and activate a Motion Sensor Garage Light are PIR and MW.
PIR (Passive infrared)
PIR detects heat and movement in the surrounding areas. When a moving object blocks too many grid zones and the infrared energy levels change rapidly, the sensors trigger a signal which is used to turn on the garage light.
MW (Microwave)
MW sensors send out microwave pulses and measure the reflections off of moving objects. They cover a larger area but are more expensive.
Sometimes a dual technology Motion Sensor Garage Light will use both technologies in a combination.
The Motion Sensor Garage Light has a timer. The lights stay on for a certain amount of time, say 20 minutes, every time a motion is detected. The 20 minutes starts from when the last motion was detected (not the first).
So if you are using a motion sensor to control the lights above your work desk, then the lights will stay on, as long as you are working and are in motion. After you finish work and leave, the lights will switch off after 20 minutes.
They will automatically switch on again, if you come back to pick up something you forgot.
Motion Sensor Garage Light Placement
The most effective way of installing indoor garage lights is to divide your garage into "usage zones. For example in a 500 square foot garage, you may have 
Zone A – 240 square foot car parking zone. If the recommended foot candle is 30 you would need a 7200 lumens (240X30) light source for this zone. 
Zone B – 180 square foot storage zone. If the recommended foot candle is 50 you would need a 9000 lumens (180X50) light source for this zone. 
Zone C – 80 square foot workbench zone. If the recommended foot candle is 100 you would need a 8000 lumens (80X100) light source for this zone. 
Use three different motion sensors for the three zones. You will turn on the light in the zone that you walk into, not the entire garage. You can also set the timer differently for the different zones.
Recommended Motion Sensor Garage Light
The best product for the car parking zone is the TriLIGHT Motion Sensor Garage Light. It is so simple to install. It's just as easy as screwing in a light bulb! The best location for it is on the ceiling close to the Garage Door Opener.
Check the price of TriLIGHT Motion Sensor Garage Light on Amazon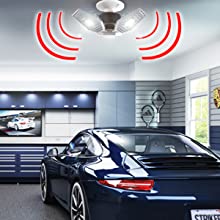 TriLIGHT uses 'Microwave Motion Sensing Technology', which is extremely sensitive to even the smallest motions. The light output is 4000 lumens but the energy consumption is lust 24W. The average life – 50,000 hours! You won't be left in the dark while you are working in your garage.
Recommended LED Utility Lights
How about the lights in the storage and work desk zone of your garage? Are they bright enough? Are they LED? If the answer is NO, it is time to switch to LED Utility Shop Light from Sunco available at Amazon.
✅ COMMERCIAL GRADE – The product meets the highest standards of quality, performance and safety. Key Features are: Certifications: ETL, Energy Star. Specifications: Length 4 FT / 48 IN, Frosted Cover, Kelvin 5000, Wattage 40, CRI 80+, Lumens 4100, Voltage 120, Linkable 4.
✅ SIMPLE INSTALL – Easy installation. Mounting hardware included (5′ Cord | 10″ Pull Chain Switch)! Directly mount to the ceiling or suspend from the ceiling for instant bright light in your garages, basements, warehouses, and storage area.
✅ LINKABLE – Easily daisy chain the LED shop light to create an extendable design. Seamlessly connect up to 4 LED shop lights together with connectors for energy savings in your home, office or work space.
These do not come with in built motion sensors. But no sweat. Just add Motion Sensor Switch.
Recommended Motion Sensor Switch
You can use one or more motion sensor switches to automate the existing lights or the new ones that you install, if they are not in-built.
The J.LUMI YCA1001 Ceiling Mount Motion Sensor Switch available at Amazon should do the job. The motion sensor uses PIR technology and provides 360-degree detection with a 20-ft detection range.
Bottom Line
The bottom line is that you can use motion sensor garage lights or motion sensor switches to automate your indoor garage lights. 
Take this opportunity to also install brighter, energy efficient LED lights. Use the lumen calculator to ensure you have the desired brightness in each zone, as per the intended use.
The motion sensor technology is simple to use, will make your life easier and save you money in the long run. Combine motion sensor with recessed lights in your garage for ultimate convenience & class.
Thank you very much for reading the post. I do hope you found it informative and useful.