How To Make Sure Of Best Climate Control For Your Garage
garagemadesimple.com is a participant in the Amazon Services LLC Associates Program, an affiliate advertising program designed to provide a means for sites to earn advertising fees by advertising and linking to Amazon.com . The website is also an affiliate of a few other brands. The affiliate links never increase your purchase price. We do appreciate your support. Thank you very much!
What is Climate Control for a Garage?
More often than not when people talk about Climate Control for a Garage, they talk about either heating or cooling the garage. Control of the garage temperature is a very important element. Possibly the most important element. 
However, I believe that restricting the discussion to just temperature control does not do justice to the term "Climate Control for Garage". 
Does the weather report on TV stop after telling you the high and low temperatures? The six elements of climate according to National Geographic…
… are temperature, atmospheric pressure, wind, humidity, precipitation, and cloudiness.

National Geographic
Not all of the above six elements may be relevant in a discussion on climate control in a garage. But many are. And then there are some other elements which are also quite important.
The Elements
So, in my opinion, for a thorough discussion on climate control of a garage, we must talk about all the elements listed below
Temperature
Humidity
Airflow
Dust
And possibly even soundproofing & pest control.
Benefits of Climate Control for a Garage
There are several benefits of using some form of climate control in your garage. The primary purpose of the garage is of course to park your cars.
But garages are increasingly used as a space for relaxation, rejuvenation and even recreation.
Garage Use
People who have a knack for DIY set up their work benches in their garage. Technology nerds will often use the garage as their getaway place to code or create the next killer app. 
Fitness freaks will build a garage gym. The spiritually inclined may decide to use the garage for practicing meditation & yoga. The list is endless.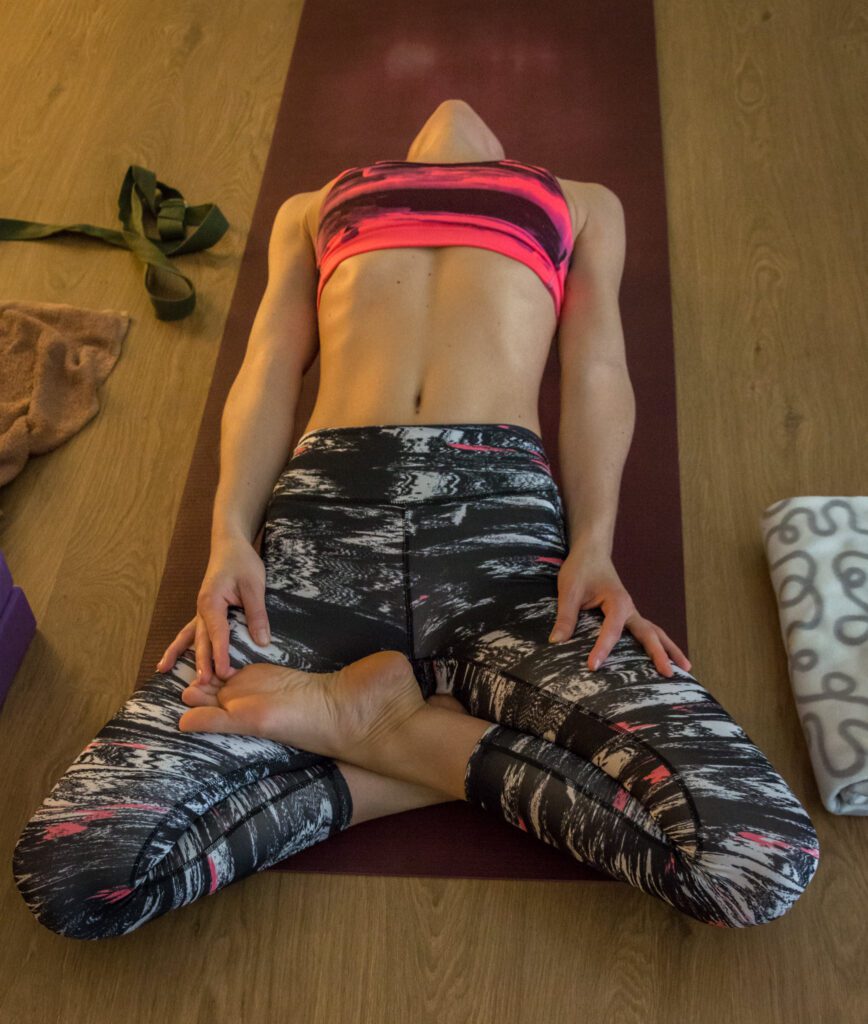 Garage is also a great place to store stuff. Garage, basement and attic are the three places you can use to store stuff that you may not need in your daily life.
You do not want to carry bigger & heavier stuff down to the basement or lug it up to the attic. Garage is, therefore, an all time favorite for such stuff.
The garage is a great place to store stuff related to outdoor activities such as sports, camping etc. You can conveniently load the gear onto your truck or trailer, when you are ready to go.
The Benefits
Climate control of your garage benefits you by
Making the garage a comfortable place to work, relax or have some fun with family & friends.
Enhancing the life of several parts of your car. Batteries, tires and the paint job last longer.
Allowing you to store gear which is sensitive to temperature fluctuations, high humidity or exposure to dust.
Prolonging the life of the garage itself such as the floor & door.
Saving money on energy bills. Not all climate controls are active and use energy. Some like insulation are passive and actually reduce energy consumption.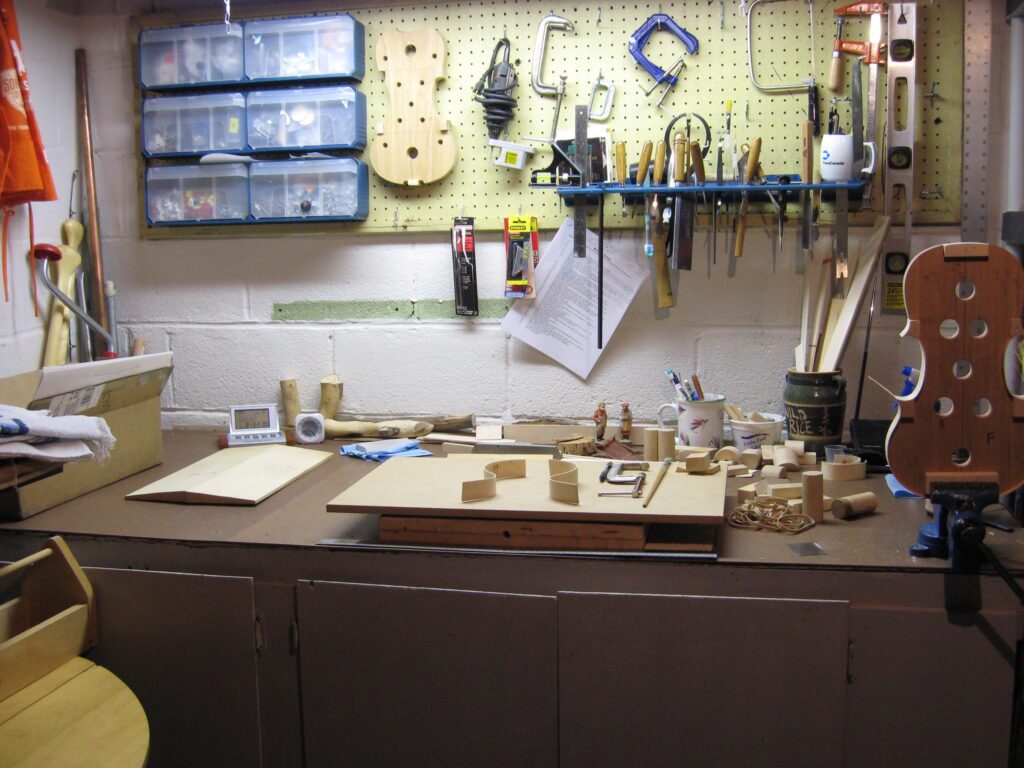 Temperature Control
Temperature control is certainly the most important part of climate control of a garage. It is especially important if you live in locations with extreme winters or really hot summers. 
But it even makes sense in temperate climates. Temperatures can vary significantly between day and night.
Insulation is a passive tool to manage heat flow. Once you install insulation, it does not use any energy.
On the contrary it lowers energy consumption by reducing heat outflow in winters and heat inflow in summers.
Garage Door Insulation
The most common Garage Door Insulation Kits available in the market use one of the following :
Expanded Polystyrene Foam Panels (EPS)
Fiberglass Wool Panels
Reflective Foil Insulation Panels
Polystyrene and Fiberglass insulate by reducing heat transfer by conduction. Reflective Foil insulates by reducing heat transfer by radiation.
R-Value
R-Value is a measure of the insulating property. Naturally, R-Value needs to be known in home insulation projects. Garage Doors are no exception.
The higher the R-Value the better is the insulation.
To know more about Garage Door Insulation check out my post An Easy Guide To The Best Garage Door Insulation
Insulated Glass
Glass Panels on Garage Doors give you another element to add to the Garage Door design. A Garage Door, incorporating aesthetically designed Glass Panels will accentuate the character of your house.
Both Carriage Style and Traditional Raised Panel garage doors often have glass panels in the topmost section. Contemporary garage doors may have even more glass panels.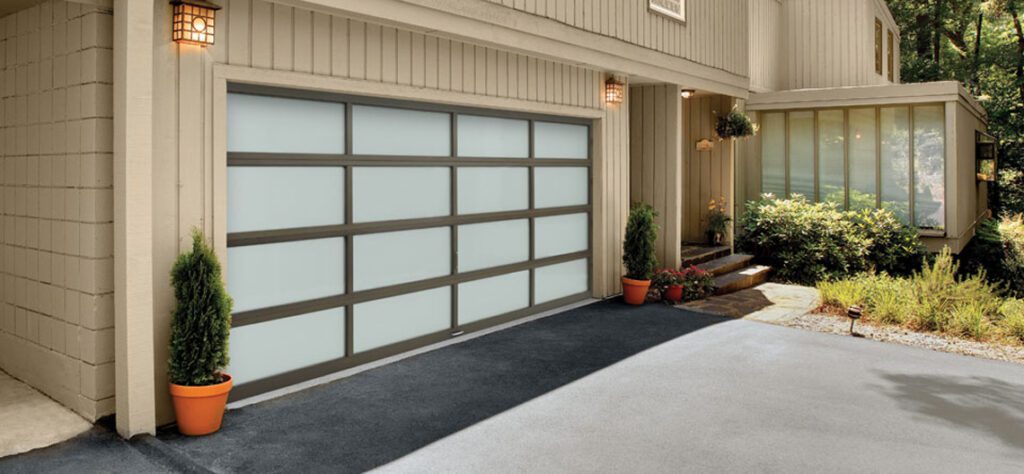 PHOTO CREDIT: Amarr
Float Glass (also referred to as Standard Glass) is a poor insulating material. So you must use Insulated Glass for your garage door.
Insulated Glass has an air gap sandwiched between two sheets of glass. Moreover, the glass is also glazed to reflect heat.
A Simple & Easy Guide To Better Insulated Garage Door Windows has more information on this topic.
Garage Door Weather Stripping
In addition to insulation garage door is weather stripping helps to seal heat flow. This is done using following types of seals around your Garage Door.
Bottom Seal
Bottom Threshold Seal
Top & Side Weather Stripping Seals
Door Panel Weather Stripping Seal
Seals are made of flexible materials such as rubber, PVC or silicone. These materials tend to become brittle with time due to exposure to sunlight and changes in temperature. They may also be subject to mechanical damages.
Do inspect them regularly and replace them when required. Learn more at How To Make Sure Your Garage Door Is Weatherproof.
Garage Floor Insulation
The ground below the garage floor gets and remains very cold during winter. The moisture in the ground makes it worse. Garage floors are basically concrete slabs and concrete is a very cold material.
The cold seeps in, from the near frozen ground, into the concrete garage floor. The cold concrete floor will suck away the garage heat.
Installation of an insulating subfloor is very helpful.  I recommend that you install DRICORE Subfloor R+ Insulated Panel, with Air Gap Technology.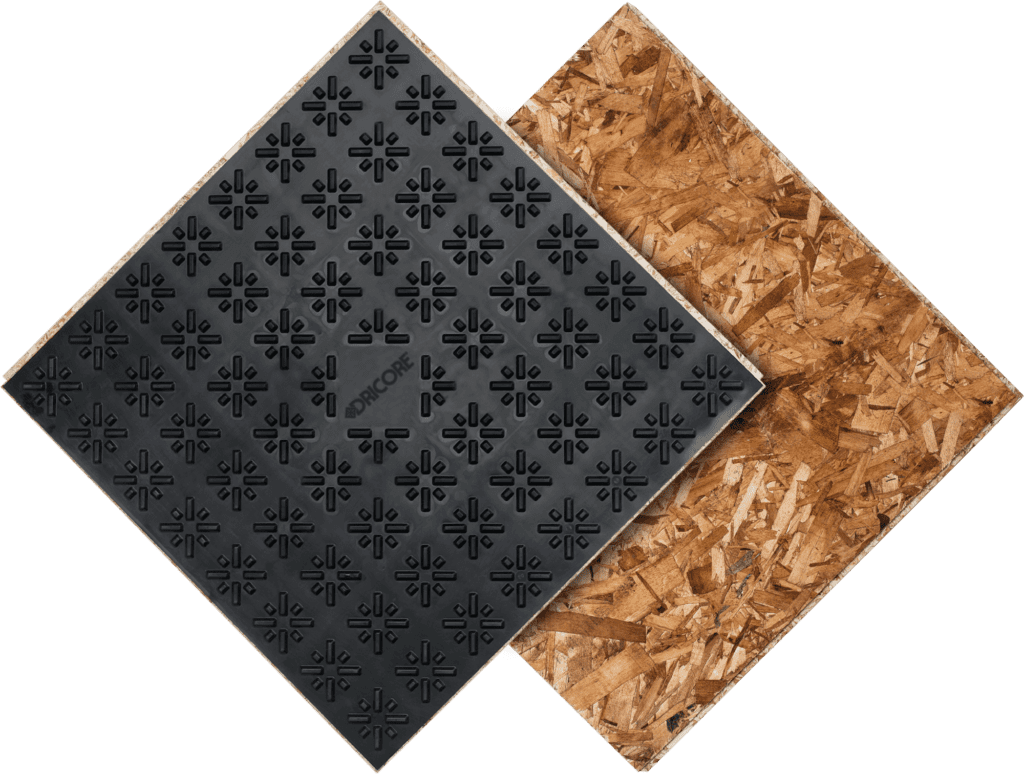 DRICORE Subfloor R+ Insulated Panel, with Air Gap Technology have an R-value of 1.4, The tiles insulate and make the garage floor feel warmer, There are some additional benefits too!
Air Gap Technology helps protect against moisture, mold, mildew and small water leaks
Softens finished floors against hard concrete
Strong enough to support up to 6,642 lbs. per sq. ft. 
Tongue and groove design makes installation fast and easy
The tiles are 2 feet squares with tongue and groove locking. The back side is a polyethylene moisture barrier. The body is an engineered wood product made up of wood chips or flakes,  compressed into one piece using a waterproof glue. The top side can be anything; such as vinyl, carpet or laminate.
The tiles can just sit on the garage floor without the use of glue, nails or any other fasteners. Because they are not attached to the floor, the expansion and contraction of the concrete does not bother them. This is also known as the "float" system.
For detailed information please refer to my blog post How To Insulate Your Garage Floor And Save More!
Garage Heating
Insulation of the garage door and the garage floor will be able to keep the heat in as the temperature starts to drop outside. You may be OK till autumn and possibly even early winter. But once it gets freezing cold you will need a garage heater.
The garage is primarily for parking vehicles and vehicle performance drops as the temperature drops. If you keep your garage heated by using a garage heater, it will be a lot easier to start the car in the morning.
The engine oil & lubricants will be less viscous and the coolant will be warmer. The life of the battery, engine, in fact the entire car will be longer.
You will also be spared the trouble of cleaning the windshield, windows and the rooftop of condensation, snow or ice. The door will not get stuck due to the cold.
In modern times the garage, especially an attached garage, has become an extension of the living space in the house. So if you keep your garage heated you do not have to put on your winter clothes just to get some work done in the garage.
You may find that the bedroom above or adjoining the garage gets a bit chilly at night, in spite of its own heating. That is because the unheated garage is sucking away the heat from the bedroom. Use a garage heater and this problem will disappear.
The 5000W Fahrenheat FUH Electric Heater for Garage available at Amazon USA is a good model for a standard 1 car garage. The bigger the garage, higher is the wattage you will need.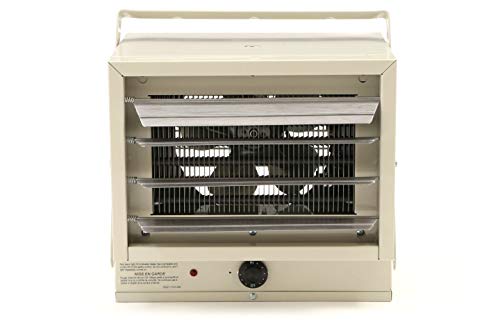 Canadians can order Fahrenheat FUH54 240-Volt Garage Heater, 2500 to 5000-Watt from Amazon Canada.
Electric garage heaters do not require to be vented, though the garage should be vented. If you use a gas fired garage heater the it is best to use one which has dedicated venting.
Not all gas fired garage heaters come with dedicated vents. It is safer to use a gas fired garage heater with a built-in vent. I recommend Ashley Hearth DVAG11L 11,000 BTU Direct Vent Propane Heater available at Amazon.
11,000 BTU heat input heats up to 375 sq. ft.
Designed for use with liquid propane gas
No complicated venting to purchase or install, complete kit is included (includes heat shield, vent pipe, air intake pipe, flashing, cap and connecting rod)
Garage Cooling
In spring or mild summer, opening the garage door (but using a garage door screen) can be effective in cooling down the garage. You cold also use an exhaust fan to push the hot garage air out.
But if your summers see out side temperature of over 90 degrees, you better consider installing a garage air conditioner. Else your garage will be too hot. You will not be able to get any work done there. It will certainly not be a comfortable, livable space.
The benefits of garage cooling in intense summers are very similar to garage heating in freezing winters. Garage cooling will actually reduce the cooling cost of the house. A cooler garage acts as a buffer zone between the cool house and the hot exteriors.
A cool garage is also essential if you use your garage for storage of stuff like golf clubs, canoes, skis, surfboards etc. Many of these are made from composite materials that do not take kindly to heat & humidity.
However, you have to be very careful about the air conditioning system that you will use in the garage. Never connect your central air conditioning to the garage. Portable air conditioners are also not very effective in a garage.
Your best option is using either a window air conditioner or even better, using a garage mini-split air conditioner. It is important to get the model which has sufficient cooling power for your needs. Typically an 18000 BTU should be fine for a 3 car garage.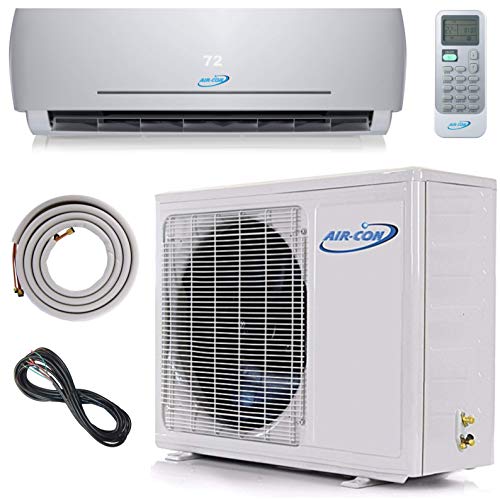 18000 BTU Mini Split Ductless Air Conditioner from Air-Con Int.
It is a high efficiency air conditioner, heater and dehumidifier all in one.
Built with pro-grade materials for a long life.
WIFI ready with optional additional remote.
Garage Humidity Control
Humidity is the amount of water vapor in the air. Whenever you get that hot clammy feeling, it's because of high humidity. Humidity tends to be high in hot areas around water bodies, such as the coast. On the other hand a desert will have low humidity and you can feel the dry heat.
High humidity makes you uncomfortable. But that is not all. High humidity, or in other words high amount of water in the air, increases rusting and corrosion.
This means that high humidity is bad for the parts in your car that can rust and corrode.
It is detrimental to the life of concrete too! Water condensation from high humidity gets into the capillaries in the porous concrete floor. This then gradually breaks down the concrete. The water can also reach the steel rebars in the concrete and corrode them.
Read more on this on my post How To Make Sure Of No More Damp Garage Floors.
High humidity in the garage is also bad for most items that you would want to store in the garage. High heat and high humidity hasten the process of corrosion.
Heat & humidity can also de-laminate products made from engineered plastics as it breaks down the adhesives used.
Garage Floor Water Diverter
Life can be pretty rough during the rainy season and winters. Getting snow, slush and water on to your garage floor does not make it any better.
To prevent humidity from going up you have to make sure that the garage floor is dry. There should be no flooding or water pooling. Follow these four strategies.
Prevention – Keep the Water Out
Diversion – Move Water Away
Containment – Limit the Water Spread
Clean Up – Get The Water Out
Learn More. Read my blog post How To Make Sure Its Dry? Garage Floor Water Diverter Is Helpful!
Garage Dehumidifiers
Quite often you may be using your garage for working out, doing yoga or dance practice. You sweat. At other times your kids are bringing in their dirty, sweaty & damp sports gear or camping equipment into the garage.
If the garage is hot & humid you are promoting the growth of bacteria, mold, fungus, mildew, etc. Not only do they make your garage stink, they also adversely affect the air quality. In fact all this can cause all kinds of health problems.
The combination of high heat & humidity also affect the life of several items that you may be storing in the garage. Metallic parts, including those in your cars, will rust & corrode easily. Sports equipment made from composite materials and using epoxy glue will delaminate.
A garage dehumidifier can help suck out the moisture in the garage air and bring humidity to acceptable levels.
Frigidaire 70 Pint Dehumidifier with Wi-Fi is portable and can remove 70 pints of water per day.
Click on this link to check prices on Amazon USA.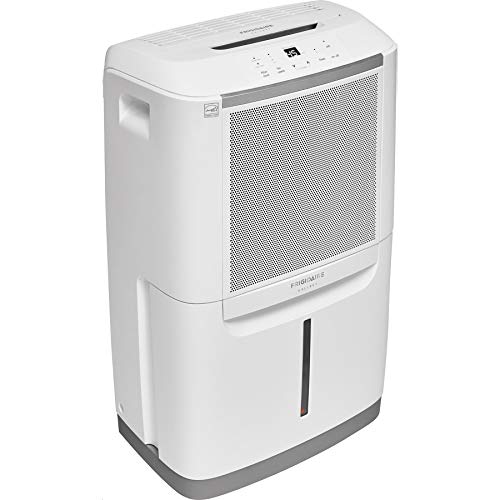 Click on this link to check prices on Amazon Canada.
Maintaining Airflow
Condensation is common during winters and at night because the outside temperature drops. The garage floor gets cold. The warm air in close contact with the cold floor is no longer able to hold the moisture. The water deposits like dew drops on the floor and all the cold surfaces.
Controlled airflow keeps the air moving so that there is little temperature variance between the floor and the air in contact with it. This reduces or even eliminates condensation.
Good ventilation is necessary to ensure your garage does not become damp, musty and moldy. Such conditions encourage dust mites.
Airflow is required in a garage to dry out and dissipate the smell from outdoor gear, sports equipment, footwear & clothing.
You need ventilation in a garage, just like you need ventilation in your house. If anything there are more reasons for ventilation in a garage. You need ventilation irrespective of whether the garage is insulated or uninsulated, attached or detached.
In winters you will get snow and ice in the garage. A garage heater will help melt it but its not enough. You need air circulation to get the hot air to all corners of the garage.
Fans
There is a choice of ceiling fans, wall fans, table fans and pedestal fans. Pick the one that works for you.
Garage Fans at Amazon USA
Garage Fans at Amazon Canada
Garage Door Screens
If the weather is pleasant outside and there is a gentle breeze blowing, you could get some fresh air into the garage by keeping the garage door open. The trouble – pesky pests, rodents & reptiles will get in too!
There is a way out. Garage Door Screens. There are many brands and models available to suit every budget. Check them out on How Are Retractable Garage Door Screens Helpful And Better?
Dust Control
You would not have guessed it but if you have a bare concrete floor, then that is where most of the dust is coming from.
"Concrete is a composite material composed of fine and coarse aggregate bonded together with a fluid cement (cement paste) that hardens (cures) over time."
Source: Wikipedia
The fine particles are cement, the coarse aggregates are sand and gravel. The concrete slab is reinforced with steel rebars for tensile strength. Concrete is a strong durable building material, but cement (an important ingredient of concrete) is not.
Cement forms the top layer of the concrete floor. It disintegrates into dust due to abrasion, weathering and chemical action. To reduce this you have to seal it with a penetrative sealer and then preferably use an epoxy coating.
Find out more how Garage Floor Sealer Is The Best Way To Reduce Dust.
Bottom Line
The bottom line is that for comprehensive and best climate control for your garage you must control
Temperature
Humidity
Airflow
Dust
The tools for controlling these climate control elements can be passive or active. Passive tools include insulation, water diverters, garage door screens, etc. Passive tools require an initial investment but no running cost. Active tools include garage heaters, air conditioners, dehumidifiers, air circulators etc.
Climate control for garage benefits you by
improving performance and enhancing life of your vehicles
letting you use your garage as a living space to be used for a host of activities
possibly saving the heating & cooling costs of your house
safeguarding the items kept in garage storage
Thank you very much for reading the post. I do hope you found it informative and useful.