9 Simple Ways to Clean Your Epoxy Garage Floor!
garagemadesimple.com is a participant in the Amazon Services LLC Associates Program, an affiliate advertising program designed to provide a means for sites to earn advertising fees by advertising and linking to Amazon.com . The website is also an affiliate of a few other brands. The affiliate links never increase your purchase price. We do appreciate your support. Thank you very much!
Epoxy is an excellent choice for garage floors. Epoxy is chemical resistant, hard wearing, durable and has a smooth finish. However, a garage floor is subjected to a lot of wear & tear, spills & stains. To keep your epoxy garage floor looking as good as new, you have to clean and maintain it regularly. So how do you clean epoxy garage floors?
To clean & maintain your epoxy garage floors, you must be regular and use only safe cleaning solvents. Placing protective mats in certain areas is also extremely helpful.
It is true that epoxy garage floors need very little cleaning & maintenance. However, it is still necessary to regularly clean your epoxy garage floor. If you are not regular, dirt, grime & stains will build up. It will then become very difficult to get your epoxy garage floor to look like new.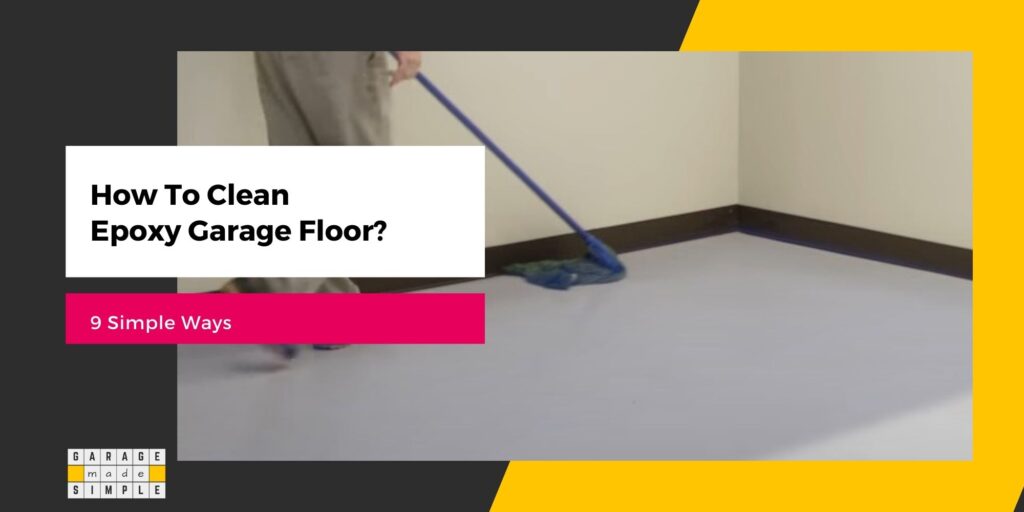 A few simple preventive measures, such as protective mats, will also protect the epoxy garage floor from oil spills & physical damage from jacks or tools.
In this post I am going to talk about nine simple ways to clean your epoxy garage floor. They will help keep your epoxy flooring looking as good as new for several years. These are:
Sweeping or Vacuuming Regularly
I am sure you sweep or vacuum your bedroom, living room and kitchen every day. So why not the garage? The reason is that quite often we do not consider the garage to be a part of our home. A garage is considered as an outdoor space. A space to dump items for which there is no storage space within the home.
Of course, this is not true. More and more people are using the garage as workspace and living space, in addition to parking space and storage space. Garage workshops have always been a part of most garages. Increasingly, gyms, yoga studios, home offices and man caves have encroached into the garage.
I believe you should sweep your garage at least twice a week, if not more often. Sweeping will keep the dirt and debris off the floor. A broom with soft bristles is desirable. Brooms or brushes with hard bristles may scratch or otherwise roughen up the epoxy garage floor.
Actually vacuuming is even better if you are dealing with just dust. A vacuum cleaner sucks in the dust and puts it in a bag. Sweeping, on the other hand, moves the dust from one place to another. In the process some of the dust gets airborne and will settle back, possibly in an area you just finished sweeping.
While you could use the same vacuum cleaner as the one you use for your house, I recommend that you invest in a shop vac for your garage. The shop vac is super useful in a garage with a workshop.
Recommended Shop Vac: CRAFTSMAN CMXEVBE17595 16 Gallon 6.5 Peak HP Wet/Dry Vac, Heavy-Duty Shop Vacuum with Attachments 
Mopping the Epoxy Garage Floor
Sweeping will get most of the dirt out. However, it is not very effective against grime and other sticky stuff on the garage floor. Mopping your epoxy garage floor, once a week, with the right cleaning solution, will make the floor squeaky clean.
You could use an ordinary soap solution for mopping but you need to be aware that
Citric soaps, such as those with lemon extract, are acidic. They clean but can also harm the epoxy garage floor.
Soaps tend to leave a haze on the epoxy floor. To avoid this, you must rinse the floor after mopping with clean water. You can use a bucket or the garden hose.
I recommend using Professional Microfiber Mop. It is possibly the best mop for an epoxy garage floor. It will remove dust, pet hair, dirt & debris from the epoxy floor with the Mojave dust mop. Follow up the dry mopping with  the premium wet mop pads for a deeper pro clean. It is strong & durable and easy to use.
Cleaning Epoxy Floors with Ammonia
Diluted ammonia is the ideal solution to clean epoxy garage floors. So, if you are worried about using soap water, cleaning epoxy floors with diluted ammonia should be perfect for you.
I recommend using Parsons Ammonia All-Purpose Cleaner. The great thing about this product is that it leaves no film residue or streaks on the epoxy garage floor.
The ammonia must be diluted. Mix half cup of the ammonia with 1 gallon of hot water in a bucket. Use a microfiber mop. Start mopping from one end of the garage. 
Stop every now and then and rinse the mop in the ammonia solution. This will get rid of the debris that the mop picks up. The mop will also get loaded with fresh diluted ammonia for the next stretch.
Using a Window Cleaner
Using a good quality window cleaner is another great option to clean epoxy garage floors. Window cleaners are formulated so as not to leave any film or haze on the window pane.
We often talk of "mirror finish" epoxy floors. A fully cured, high gloss epoxy floor has many characteristics which are similar to glass. It is easy to therefore understand why a window cleaner is a good option for cleaning epoxy garage floors.
Clean the stubborn grease & dust spots, in hard to reach areas, of your epoxy garage floor with a window cleaner. Pour the window cleaner on a sponge or a soft scrub pad and scrub the dirty spot.  
You should always rub lightly and not use excessive pressure. You only want to remove the dirty spot, not a bit of the epoxy. A hard rub may leave the surface with diminished gloss and will mar the looks of your floor.
Recommended Product: Windex Original Glass Cleaner
Cleaning with Simple Green
Simple Green Industrial Cleaner / Degreaser is an amazing product for cleaning a garage floor. Simple Green can clean effectively as it removes the grease and grime from the epoxy garage floor. Having said that, Simple Green is an aggressive cleaning agent and should be used only when really necessary.
Simple Green should be diluted with water. Dilute Simple Green with clean water in a ratio of 1:8. Keep in mind that just like soap, Simple Green may also leave a film on the epoxy garage floor. 
So use clean water, either from a bucket or from the garden hose, to rinse the floor, after cleaning with Simple Green.
Removing Rust Stains
There are many reasons to get rust stains on an epoxy floor. All you need is some steel or iron and humidity, both of which are readily available. Forgot to clean up after a project? The nails left behind on the epoxy garage floor will rust and stain it.
Fresh rust stains can usually be removed by lemon juice (citric acid) or vinegar (acetic acid), available in most kitchens. Vinegar is stronger than lemon juice. Here's what you need to do:
Clean the rusted area so that the rust is exposed
Pour the lemon juice or vinegar on to the stain & wait for 10 minutes
Scrub with a stiff bristled brush
Clean up with warm, soapy water
For rust stains that have been around for a while, you will need to use a commercial product. They usually contain oxalic acid, a powerful cleaner that can remove even the toughest stains. 
Iron OUT Liquid Rust Stain Remover from Amazon is very effective on rust stains. It is a pre-mixed and ready to use liquid that easily removes rust stains. It can be applied with a tank sprayer, cloth or roller.
Make sure to take the proper safety precautions, including wearing latex gloves and safety goggles.
How to Remove Oil Stains from Epoxy Floor
No one likes oil stains on their epoxy garage floor. Unfortunately, this is bound to happen sooner or later. This may happen if the oil level is very high because you added more oil than necessary. Or there could be a leaky gasket.
Whatever the reason, you want to know how to remove oil stains from your epoxy garage floor. Oil stains are unsightly and make your garage look absolutely ugly. Oil stains can either be fresh or they may have been around for a while. The method to remove oil stains from an epoxy floor depends on this.
Fresh Oil Stains
If you detect the leak in your car and see the oil stain forming under it then you must act immediately. Do not wait, else the oil will get absorbed by the epoxy. The stain will then attract dust and other debris. 
You need to place some absorbing material, such as old newspaper, sawdust, talcum  powder, etc. Within an hour or so, the oil will be absorbed. This will prevent the oil from being absorbed by the epoxy. 
The little bit of oil that may still be there on the floor can easily be cleaned using a sponge and soap water.
Old or Dried Oil Stains
You may have gone for a long vacation and come back to find an ugly black spot under your car. The oil would certainly have penetrated into the epoxy. The stain is black because it has collected dust which has caked.
The only way to remove search oil stains is to use a degreaser followed by a commercial oil absorber.
Oil Eater is an industrial grade oil stain remover which is also eco-friendly. Pre-wet the stain with hot water and pour a strong solution of Oil Eater directly onto the stain. Let it sit for a few minutes before using a stiff brush to remove the stain. 
You may need to do this more than once, depending on how deeply entrenched the oil stain is.
Oil DRI can be used after you have tried to clean the oil stain using a degreaser and scrubbing it. Cover the stained area with a lot of Oil DRI. Leave it overnight to absorb the oil. Sweep it off in the morning.
Removing Tire Marks
A garage floor, epoxy or any other coating, will get tire marks, sooner or later. Tire marks happen due to "plasticizer migration", from the tires to the parking surface. 
Tire marks on epoxy garage floors are pretty tough to remove.
The trick is to clean up the tire marks, as soon as you notice them. The longer you wait the tougher it gets to remove them. The plasticizer will migrate deeper into the epoxy floor.
To remove the tire marks from an epoxy floor use
A cleaning solvent solution such as simple green or 
A concrete degreaser such as Rust-oleum Degreaser
Apply them on the tire marks and let them sit for a few minutes. Then use a nylon brush with semi-stiff bristles and try to scrub the marks away. You have to be persistent yet gentle at the same time. You may need to do this more than once before you can get the marks out.
Protecting Epoxy Floors
Protective coverings will take the brunt of the wear & tear, spills & stains so that your epoxy garage floor continues to look as good as new. The protective covering will also make it easier to keep the garage clean.
Some of the protective coverings that you want to consider are:
Door Mats
Protective Mats around Workbenches
Absorbent Oil Mat
Containment Mats
Clear Cover Epoxy Protector
I really love the G-Floor Clear Cover Epoxy Protector and you will too! You have got this stunningly beautiful epoxy coat on your garage floor. You want to show it off, not hide it under an ugly black or grey mat.
Check out another of my blogs How To Maintain An Epoxy Garage Floor To Always Look New! for more details.
Thank you very much for reading the post. I do hope you found it informative and useful.